Often touted as the 'Vegas of the East', Thailand is a fun-loving and friendly country located in South East Asia. Thailand has become the go-to destination for travelers from all around the world because of the versatility of places it has to offer. You will find pristine beaches, ancient architecture, delicious local food and green lush jungles, along with many more attractions that makes this country worth visiting.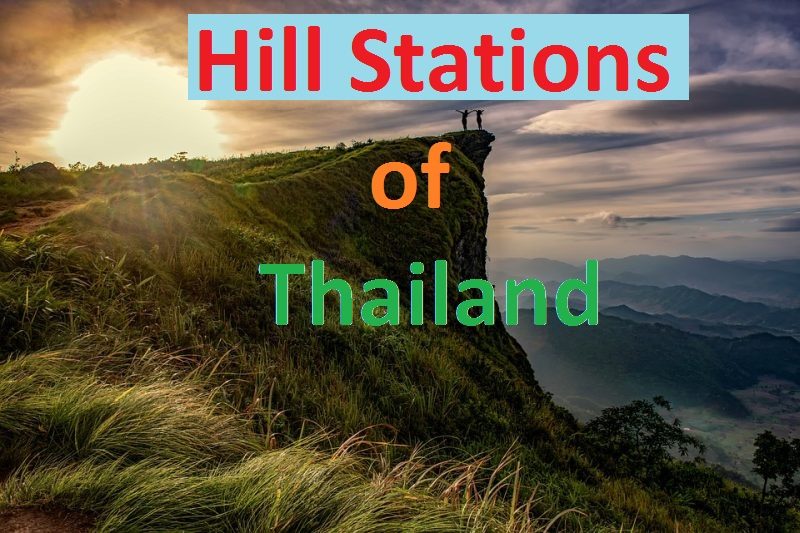 Popular Hill Stations of Thailand
Here, we underline the best Hill stations that you should visit while in Thailand:
DoiAngKhang
DoiAngKhang is part of the DoiAngKhang National Park. It is located in the Fang District in the Chiang Mai Province of Thailand. This mountain region has pleasant weather all year round which makes it very favourable for Agriculture. During winters, it gets very cold so you better carry warm clothing.
Address:
Doi Ang Khang,
Mae Sun, Fang District,
Chiang Mai 50320,
Thailand
Doi Mae Salong
Mae Salong is situated in the Chiang Rai province, in a region called Mae FahLuang. It is around six kilometers from the Myanmar border. Doi Mae Solong is a mountain which is part of the Daen Lao Range and it's summit is close to the town of Santikhiri that is situated right on the ridge of the mountain. It is one of the more picturesque Hill stations in Thailand.
Address:
Doi Mae Salong,
Mae Salong Nok, Mae Fa Luang District,
Chiang Rai 57110,
Thailand
Wat Tham Khao Luang
KhaoLuang hill is situated north of Petchaburi town and it is around a hundred meters high. It has a number of caverns that are dedicated to Buddha and are filled with over 170 images of Buddha, including a huge statue commissioned by the King Rama V. This is a natural cave system with numerous stalactites hanging from the ceilings. It is a popular shrine and the atmosphere here is very peaceful and quiet.
Address:
Thongchai,
Mueang Phetchaburi District,
Phetchaburi 76000,
Thailand
Mae Ya Waterfalls
Mae Ya Waterfall is located in the Province of Chiang Mai within the DoiInthanon National Park. It is one of the most well known and considered one of the biggest waterfalls of the country. It extends over 30 stories of rock cliff with a majestic white sheet of roaring water flowing and crashing to the basin below, with accompanying mist and thunderous sound.
Address:
Ban Luang,
Chom Thong District,
Chiang Mai 50160,
Thailand
Kanchanaburi
Kanchanaburi is one of the most beautiful regions in Thailand. It has plenty to offer for sightseers and adventure seekers alike. Right from beautiful national parks, to majestic waterfalls, all of these are gorgeous sights worth marveling over.
Address:
Kanchanaburi,
Mueang Kanchanaburi District,
Kanchanaburi,
Thailand
KhaoSok
KhaoSok is a remote place that is overrun by lush green rainforests and deep valleys. It is pristine and the ideal destination for vacation goers who want to cut themselves off from busy lifestyles and bask in the calm mesmerizing life of the Island of KhaoSok.
Address:
62 Khlong Sok,
Phanom District,
Surat Thani 84250,
Thailand
Chiang Rai
Chiang Rai is located in the northern part of Thailand. It is a sought after destination because of the numerous mountain ranges and hill summits that serve as starting points for Treks and mountain excursions. It has a plethora of activities for travellers like trekking, river cruises, rafting, elephant spotting or even tours of meeting the famed hill tribes.
Address:
Mueang Chiang Rai,
Mueang Chiang Rai District,
Chiang Rai,
Thailand