Nagarhole National Park is also known as Rajiv Gandhi national park a popular Safari tourist place. Find the best time to visit, entry fees, safari charges, contact number and address detail. It comes under Kodagu district of Karnataka. In the year 1999, the park comes under the 37th rank of Project Tiger Reserve. The area is mainly known for conservation of large number of birds and tigers.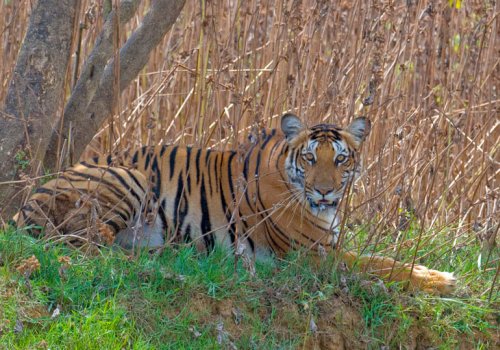 Establishment
Earlier during the Wodeyar dynasty (Kingdom rule), the area of the park was known for hunting. The area comes under the king of Mysore who used to hunt the animals. After independence it was considered as the Wildlife Sanctuary in 1955. And it got official tag of Wildlife sanctuary in 1988.
Famous for
The park consists of various types of plants which are not easily found in any area. The moist deciduous forests having flora of rosewood, sandalwood and teak are found in the southern region of the park. Many different kind of trees are get to see in the parki like cotton tree, crocodile bark, kadam, Lagerstroemia lanceolata, ficus, Indian kino tree and many more. Large number of wildlife like reptiles, mammals, insects and birds are found here having different species. It has beautiful waterfalls and valleys which attracts the tourists.
Nagarhole National Park Area
It spreads over the large area of about 643 km2 which also covers some parts of the Brahmagiri hills. It is situated near the Bandipur National Park and the Nagarhole national Park is in the north-western direction from the Bandipur National park.
How to Reach 
The easiest way to reach the park is from Mysore by road which is at the distance of 96 km from the park and it will take only two hours to reach the park. You can go by flight also but for that you have to reach Bangalore airport and from there you can go by train or by bus. Mysore railway station is the nearest one from where you can easily reach the destination.
Best Time to Visit Nagarhole National Park
As the area is surrounded by Lakshmmantirtha river, Kabini river and many more so the annual rainfall is very high during the rainy season. You can visit the park during winter season from October to the end of March. Avoid to go during monsoon because you will not fully enjoy.
Weather Overview
| | | |
| --- | --- | --- |
| Sr. No. | Month | Temperature |
| 1 | January | 22-33 Degree Celsius |
| 2 | February | 23-34 Degree Celsius |
| 3 | March | 24-34 Degree Celsius |
| 4 | April | 26-35 Degree Celsius |
| 5 | May | 26-34 Degree Celsius |
| 6 | June | 24-30 Degree Celsius |
| 7 | July | 24-30 Degree Celsius |
| 8 | August | 24-30 Degree Celsius |
| 9 | September | 24-30 Degree Celsius |
| 10 | October | 24-32 Degree Celsius |
| 11 | November | 23-32 Degree Celsius |
| 12 | December | 22-32Degree Celsius |
Safari in Nagarhole National Park
There are different types of Safari available in Nagarhole National Park. Open and Cover Jeep safari are best way to explore the national park.
Jeep Safari Timing: From 5:30 AM to 10:00 AM and thereafter from 3:00 PM evening to 7:00 PM
Bus Safari: Starts from 6:00 AM to 9:00 AM and return by 3:00 Pm to 5:00 Pm evening
Timing
If you visit the park early morning then you can see and enjoy the natural environment of the park. As the entry time starts from 6:00 AM and till 6:00 PM you have to exit from the park.
06:00 AM – 08:00 AM (Morning)
03:00 PM – 05:00 PM (Evening)
Contact Number:
0821-2444-444
98451-18000
Email Address:
Address
NAGARHOLE NATIONAL PARK
Located At: 370/4
Place: JLB Road
City: Mysore
State: Karnataka
Establishment: 1988
Area: 643 km²
You may also consider Coorg Hill Station to visit.
Entry Fees
| | |
| --- | --- |
| Rate | Entry For |
| Rs 200 | Per Person (India) |
| Rs 1,000 | Per Person (Foreigner) |
| Rs 100 | Per person for safari |
| Rs 1,000 | Camera for a day |
| Rs 1,000 | Video Camera for a day |
| Rs 40 | Jeep/car Parking for a night |
| Rs 60 | Light Vehicle Parking for a night |
| Rs 80 | Bus/Truck parking for a night |