Planning to visit Kemmangundi which is a lovely hill station in Karnataka? Find the list of places to visit, popular tourist spot, best time to visit & how to reach. Kemmangundi is one of the beautiful Hill Station is another mesmerizing beauty of nature in Karnataka. This place is also famous for the romanticism of the place, especially at the foggy days. Picaresque landscapes, stunning waterfalls, and soothing greenery have made the place more gorgeous. Kemmangundi hill station is a place of Tarikere Taluk of Karnataka and surrounded by the Baba Budan Giri Range of mountains. You can give your eyes and heart a soothing feeling by viewing the wide green valleys of the hill station. People come to the Place for a short but relaxing trip with the family loved ones or friends. Kemmangundi hill station is quite popular for trekking and tiny turns and the wide muddy mountains are the ideal places for trekking. You will find various rare kinds of the plantations there. With every slope and every climb of the mountain, you can enjoy the grace of nature with your every step.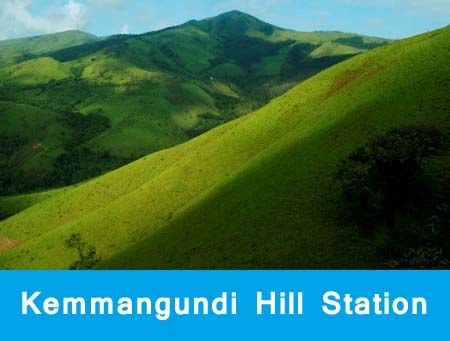 Where to Stay
There are many hotels and resorts are available at the place. Hotels you also find with different price, from budget hotels to luxurious hotels or resorts all are available there. You will find the government resorts also there. If someone wants to stay closer to nature, the home stay options are perfect for them. These are reasonable and at a time luxurious and peaceful to stay in the lap of nature.
Best Time to visit Kemmangundi 
Weather of the place is really soothing but the peak time of travel there is from September to June.
Weather Overview
| | | |
| --- | --- | --- |
| Sr. No. | Month | Temperature |
| 1 | September | 20-30 Degree Celsius |
| 2 | October | 17-38 Degree Celsius |
| 3 | November | 16-29 Degree Celsius |
| 4 | December | 14-28 Degree Celsius |
| 5 | January | 14-34 Degree Celsius |
| 6 | February | 15-33 Degree Celsius |
| 7 | March | 19-39 Degree Celsius |
| 8 | April | 23-36 Degree Celsius |
| 9 | May | 22-36 Degree Celsius |
| 10 | June | 21-32 Degree Celsius |
How to reach
If you want to travel by air, then you have to reach Mangalore first. This is the nearest airport of Kemmangundi. You can reach your destination from there by car or buses are also available.
You will find some buses from Bengaluru or Mangalore both.  Or you can reach Birur Junction station from Bangalore or other major stations of South India by train to reach there.
Places to visit in Kemmangundi 
Hebbe Falls
This is an awesome waterfall of the place and the water of the falls has the power to cure a different kind of skin diseases.
Z point
Travelers, who visit the place with the desire of trekking, Z point is the ideal spot for them. With every step of your trek, you will find the breathtaking natural beauty. You can also witness the Western Ghats from there.
Kalhatti Falls
Awesome waterfall beside the shiva mandir of Chikmagalur is one of the best tourist attractions of the place. Water coming there from 40o ft height of Chandra Drona hills and has created a flawless picaresque view there.
Baba Buban Giri
This is the highest mountain range of Karnataka and an ideal place for trekking. This place is also popular for superb scenic beauty.
Mullayanagiri
It is a peak of Baba Buban Giri and there you will find a shiva mandir too.
Rajendra Hills
This hill is famous for iron deposit and green valleys.
Rock Garden
The rock garden is the home to various rare plants and flowers. To capture your travel memory at your heart, this is the best place actually. There also many other beautiful places at the hill station and the city, Kemmangundi is ideal for small handicraft shopping.