Shimla! The very word just takes your breath away for its serene beauty, snow-capped mountains and ripe red apples! But something else might also stop you from breathing and run a chill down your spine! Yes you guessed it right. Ghosts! Amongst the serenity lies a dark shroud which envelops the Himachal's capital with dread and terror encounters with several supernatural powers and ghost stories. Lets us explore a few places in Shimla, which oozes with adventure and spook.
Tunnel 33
This tunnel is located in Barog, that is considered to be one of the spookiest places about supernatural powers in Shimla. Legend goes, that British engineer Captain Barog was given the responsibility to construct this Shimla-Kalka tunnel. He failed miserably and killed himself after paying a huge sum of money. His body was buried near the tunnel and it is assumed that his spirit still roams the place. Many a times, a figure is seen walking along the tracks of the tunnel and suddenly disappearing!
Charleville Mansion
This heritage building is about a century old, >which was once resided by the famous British officer whose name was Victor Bayley along with his wife, and before that it was occupied by an army officer. People living in it reported a man walking down the corridor and suddenly disappearing. At present this mansion has been revamped by an Indian but people still believe in a spirit haunting the house.
House of Dukhani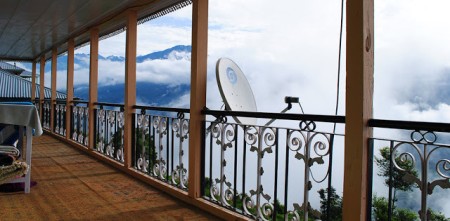 This beautiful house has long tales to tell of the appearances of a ghost dressed in a white gown. Sir John Smith was a guest in this house and shared experiences of the eerie occurrences of a man's appearance. It is said that a British man named Bucky, shot himself. His spirit is seen at the same spot he died.
Indira Gandhi Medical College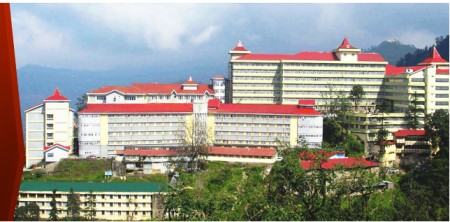 Located in Lakkar Bazaar, Shimla, this hospital is the largest in Himachal Pradesh. Hundreds of people are admitted- some gets cured and some die. Reports of high paranormal activity were reported in this hospital during the quiet hours of the night. Many encountered supernatural experiences of a sudden push, weird sounds and even apparitions of ghostly figures. Some also reported being trapped in the lift without any obvious reason for hours.
Convent of Jesus and Mary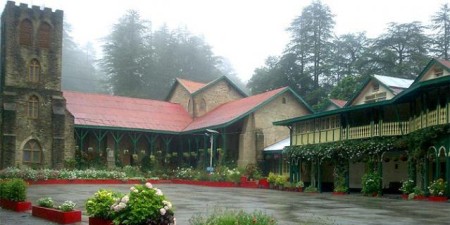 This famous school of Shimla nestled in Chotta Shimla has also got a name for the spooky tales it offers. It is said that very Friday the 13th a beheaded horseman, comes riding in a horse and offers a rose to a girl. If she accepts he takes her away, if she does not, he kills her. Before being a school, the place was an orphanage where a fire broke out and killed most of the children. The bodies were buried in the place where the present playground stands. Students refuse to stay back after school hours due to ghostly activities.
The Chudail Baudi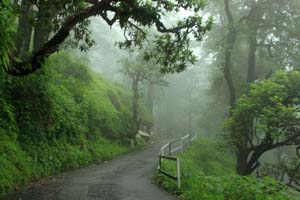 This stretch of road is situated between Shimla highway and Chotta Shimla. It is said that the speed of the vehicles slows down automatically in this area; no matter at what speed the driver is driving. A lady in white is seen asking for lift during the dark hours and even if you deny, she is seen to be present in the car; sitting with a grim face staring at you! Many accidents have occurred due to this distraction. Gives you shudders! Right?
Kingal Shimla Road
This road is famous for strange lightings occurring around two in the night. According to local people it might be caused due to a spirit. Nothing has been confirmed yet regarding the sudden occurrences of this unearthly light. Whether it is a scientific phenomena or a supernatural incident, it is yet to be explained.
The Orange Man on IGMC Road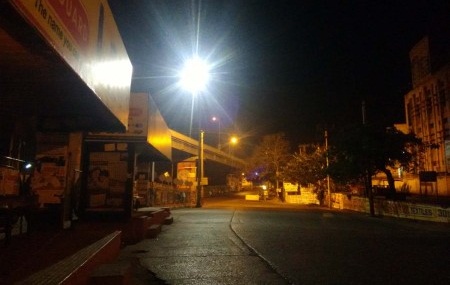 The Indira Gandhi Medical College forest road is an abode to many ghosts. One famous story reels around a man who used to sell oranges by the road. Even after his death, he is seen to sell oranges on the same spot but is completely harmless. Maybe his soul is too attached with the place.
Supernatural is yet to be explored and if you have the courage and the adventurous side, do take this list along to Shimla. I am sure you will not be disappointed!
So these were most scary and haunted places from Shimla, if you know any other such place then do let me know.