Since the land around Nagpur is pretty much flat, it is hard to find a hill station nearby. However, we have compiled the choicest few in our list below. These beautiful hill stations near by Nagpur city are able to attract millions of tourist every year. Therefore whether you are looking for a weekend spot or adventurous place, these hill stations around the Nagpur city will easily win your heart.
Chikhaldara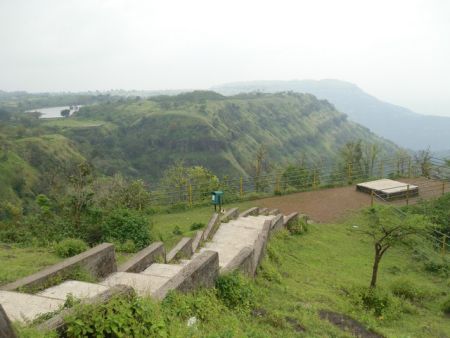 This lovey Chikhaldara is the only hill station in all of Vidarbha region. It is situated 231 km from Nagpur, in the Amravati district of Maharashtra.
How to get there
MSRTC buses ply from Nagpur to Chikhaldara, via Amravati-Paratwada. Other than this, there is always the option of taking a tourist permit vehicle from Nagpur.
When to visit
Recommended window for visiting Chikhaldara is October to June, although the summers are best avoided due to spiking temperatures.
Where to stay
Some of the stay options in Chikhaldara are listed below
Hotel Harshawardhan
Green Vallies resort
Satpura Retreat
Bhimas Paradise
What to do
Some important places to visit in Chikhaldara are the Gavilgad and Narnala Fort, Tribal museum, Nehru Botanical gardens, Hurricane point and Prospect point.
You can also check out hill stations close to Shirdi that comes under Maharashtra state.
Pachmarhi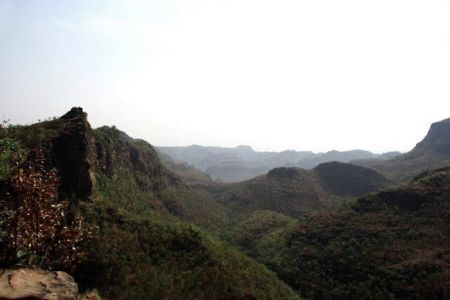 Pachmarhi is a hill station located in the neighbouring state of Madhya Pradesh. It is about 257 km from Nagpur.
How to get there
MSRTC and private buses ply between Nagpur and Pachmarhi, although the scenic routes and your personal convenience dictate that you should hire a cab or take your own car.
When to visit
Weather conditions remain favourable throughout the year, only the monsoon is best avoided since it will put a dampener on your trip.
Where to stay
Given below is a list of recommended places to stay during your trip to Pachmarhi
Hotel Pachmarhi
Welcome Heritage Golf View resort
Hotel Parikalp
Hotel Misty Meadows
Hotel Royal
What to do
Pachmarhi is home to a Bio-sphere of various plants and animals that will delight wildlife lovers. Some of the important tourist spots are
Rajat Pratap waterfall
Bee Fall
Chauragarh
Apsara Falls
Jatashankar
Duchess Fall
Pachmarhi Hill
Mount Rosa
Draupadi Kund
Bhandardara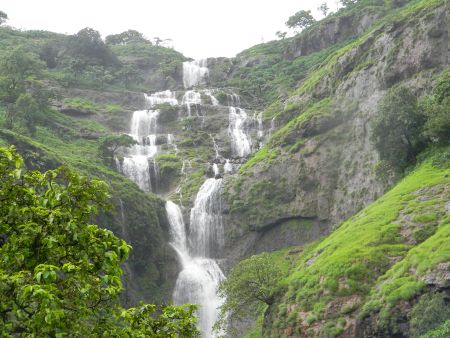 Bhandardara is 695 km away from Nagpur.It is a quaint little village in the Ahmednagar district and comes under Maharashtra state. It is home to the highest peak in Maharashtra, Mt. Kalsubai.
How to get there
Due to the remoteness of the place, direct buses are not available from Nagpur to Bhandardara. You can take a bus till Sangamner and then catch a jeep to Bhandardara, or take a train to the nearest station Igatpuri, then catch a bus or cab to Bhandardara
When to visit
The best time would be the monsoons, i.e July to September, because that is when seasonal waterfalls appear.
Where to stay
Some places you can consider staying at Bhandardara are-
MTDC resort
Anandvan resort
Cottons Forest resort
Hotel Amruteshwar
What to do
The adventurous may choose to try and have a go at climbing Mt. Kalsubai, which is 1646 m high. Other places of interest are
Ratangad fort
Wilson dam
Umbrella falls
Amriteshwar temple
Jawhar
Jawhar is a hill station situated in the Palghar district of Maharashtra, 734 km away from Nagpur. It is known for its rich cultural heritage, and is especially famous for its Warli tribal paintings.
How to get there
It is recommended to take a train upto Igatpuri. The travel time is 12 hours. From Igatpuri, private and government buses are available, or you can hire a private taxi to go to Jawhar.
It is recommended that you visit Jawhar in the period of late October to early March.
Where to stay
Here are some hotels that you can stay at during your trip to Jawhar.
Sunset Point Resort
Hotel Sankalp
Symphony Lakeview Resort
Shanti Sarovar Resort
Hotel Sai Mahal
What to do
Some of the must-visit places of interest in Jawhar are-
Dabhosa Waterfall
Jai Vilas Palace
Hanuman Point
Khad-khad dam
Kal Mandavi Waterfall
Matheran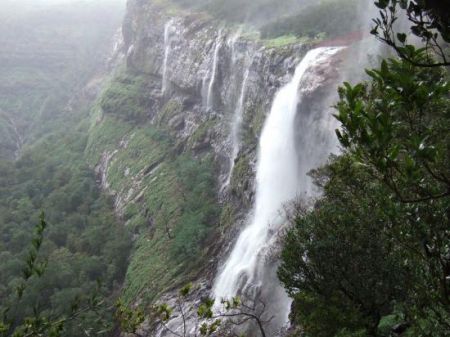 Matheran is a beautiful hill station that is located in the heart of Raigad district of Maharashtra. It has been declared the smallest hill station in India. It also has the privilege of being Asia's only automobile free hill station, owing to its eco-sensitive status. It is about 810 km from Nagpur by road.
How to get there
Owing to its distance from Nagpur, it is recommended that you take a train to Pune, Mumbai or Kalyan and then proceed onward to Matheran. Matheran is 90 km from Mumbai and about 120 km from Pune.
When to visit
Matheran has pleasant weather all through the year. But the true pleasure of going to Matheran will be during the months of October to May.
Where to stay
You will be spoilt with options to stay at in Matheran. Some of the hotels recommended to stay at are-
Cecil Hotel
Usha Ascot
Hotel Paramount
Hotel Panorama
Verandah in the forest
What to do
Some of the must-visit tourist attractions here are:
Alexander Point
One Tree Hill Point
Belvedere Point
Olympia Race Course
Charlotte Lake
Celia Point
Porcupine Point
Panorama Point
Louisa Point
Mayra Point
Pisarnath Temple