If you wanted to know the best hill station that is close to Shirdi then you should continue reading. I have prepared a list of places to visit that is near to Shirdi. People are put in a dilemma over which places to visit during a weekend or a short break. Well, ponder no more. I have come up with a list of the top 5 hill stations to visit near Shirdi.
Igatpuri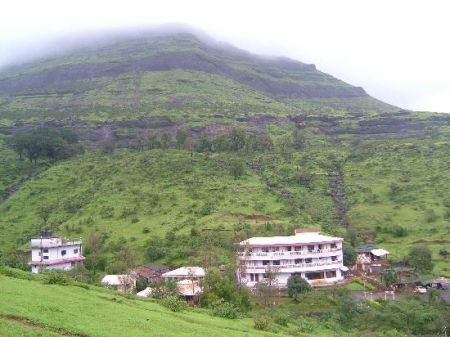 Igatpuri is a hill station situated just 120 km from Shirdi, in the Nasik district. It is a scenic town, and mainly known for the Vipassana International Academy.
How to get there
You can travel to Igatpuri from Shirdi by train, changing trains at Manmad Jn. Or you can travel by public bus or take a taxi as it is only 120 km.
When to visit
Owing to weather patterns, the best time to visit Igatpuri is October through March.
Where to stay
There are plenty of stay options in Igatpuri. Some of them are listed below
Mystic Valley spa resort
Manas resort
Golden resort
Dew Drops boutique resort
Hotel Ashwin
What to do
Igatpuri is a hikers' and trekkers' paradise. Some of the prominent tourist spots are-
Bhatsa River valley
Arthur lake
Kalsubai peak
Tringalwadi fort
Dhammagiri meditation centre.
Koroli Hill
Koroli is a relatively unknown hill station, located about 125 km away from Shirdi. It is ideal for a quiet getaway to uncharted territory with nothing but nature for company.
How to get there
Koroli is only 125 km away from Shirdi, and 28 km from Nasik. Hence, it is recommended to avail bus services till Nasik and then hire a taxi to Koroli.
When to visit
The weather is pleasant throughout the year, but tourist footfall peaks in between october and february.
Where to stay
Since Koroli is located only 28 km from Nasik, it is recommended that patrons stay in Nasik itself. Nasik has plenty of options for stay. Some of them are-
Hotel Express Inn
The Gateway hotel Ambad
Hotel Grape City
Hotel Skylark Inn
What to do
Koroli is home to the first trekking institute of Maharashtra. Some of the must visit spots are as given below
Anjaneri Fort
Dugarwadi waterfall
Vaitarna Lake
3.Bhandardara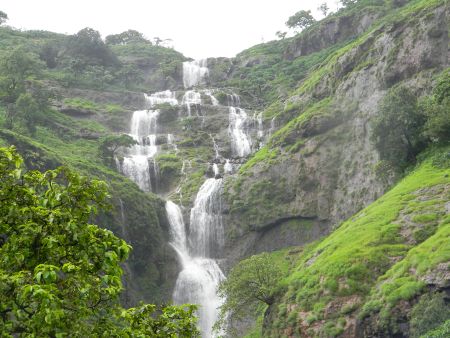 Bhandardara is 102 km away from Shirdi. It is a quaint little village in the Ahmednagar district of Maharashtra. It is home to the highest peak in Maharashtra, Mt. Kalsubai.
How to get there
Due to the remoteness of the place, direct buses are not available from Shirdi to Bhandardara. You can take a bus till Sangamner and then catch a jeep to Bhandardara, or take a taxi from Shirdi bus stand to Bhandardara directly.
When to visit
The best time would be the monsoons, i.e July to September, because that is when seasonal waterfalls appear.
Where to stay
Some places you can consider staying at Bhandardara are-
MTDC resort
Anandvan resort
Cottons Forest resort
Hotel Amruteshwar
What to do
The adventurous may choose to try and have a go at climbing Mt. Kalsubai, which is 1646 m high. Other places of interest are
Ratangad fort
Wilson dam
Umbrella falls
Amriteshwar temple
4.Malshej Ghat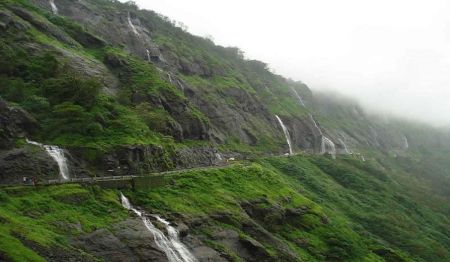 Malshej ghat is 140 km away from Shirdi. It is a mountain pass located among the western ghats in Pune district. It is especially lucrative for the outdoorsman, with beautiful trekking trails, luscious greenery and raging waterfalls during the rainy season.
How to get there
Government buses ply from Shirdi to Malshej Ghat. In addition to this, Private AC and Non-AC buses are also available for nominal prices. You may have to change buses at Sangamner. Other than this, patrons can take private tourist cabs that are available from Shirdi.
 When to visit
Malshej ghat is most scenic in the monsoon season, between July and september, when the greenery is at its peak.
Where to stay
Flamingo Hill– MTDC (Maharashtra Tourism Development Corporation) runs a resort named Flamingo Hill which is highly recommended. Other than this, a private resort named Sushant Resort operates in the area.
What to do
Malshej ghat is a treat for bird lovers due to the hordes of Flamingoes that visit this place. In addition to this, there is the Shivneri fort, which is the birth place of the great Chhatrapati Shivaji Maharaj. Some more places to visit nearby are
Harishchandragad
Malshej Falls
Khireshwar
5. Saputara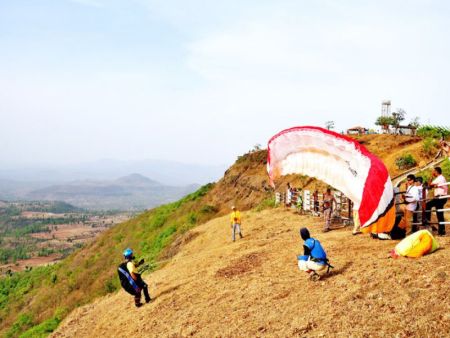 Saputara is a hillstation situated in the Dang district of the neighbouring state of Gujarat. It is only 145 km from Shirdi and only 4km from the Maharashtra-Gujarat border. It is a planned hillstation that is equipped with hotels, parks, a boat club, a museum and ropeways.
How to get there
Government buses ply from Shirdi to Nasik, and from Nasik to Saputara. Other than that, one can always take a private taxi from Shirdi to Saputara.
When to visit
 Saputara has a favourable climate throughout the year, hence, it is a recommended destination all the time. But the tourist season peaks between the months of October and February.
Where to stay
Some of the hotels recommended to stay at are-
Aakar Lords Inn
Shilpi Hill Resort
Hotel Lake View
Hotel Anando Saputara
What to do
Some of the must-visit tourist attractions here are-
Artist Village
Vansda National Park
Sunrise and sunset point
The ropeway
Gira falls