The Pakhui Tiger Reserve is located in Seijosa, Arunachal Pradesh. Find the safari detail from how to reach, best time to visit, entry timing and fees.  It is counted among one of the largest sanctuary in India and lies between different forests and rivers of which water is consumed by the sanctuary. It comes under the region of Arunachal Pradesh state which covers the area of East Kameng district. It lies between the two rivers namely Kameng River at one side and Pakke River at another side. It is considered as the Tiger Reserve. The beautiful valleys and mountains attracts the tourists. Wide varieties of wildlife and trees are get to see here.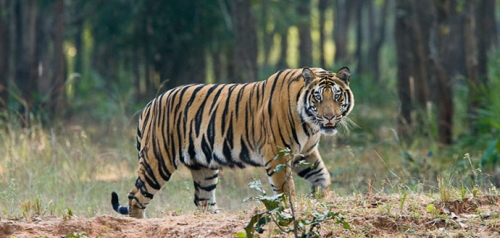 Establishment:
Initially, it was established as Pakhui Reserve Forestin the year 1966. After that on March, 1977 it was named as Game sanctuary and finally it was confirmed as a wildlife sanctuary in the year 2008. Later on in the year 2002, it comes under the directory of 26 tiger reserves.
Area:
It spreads over large area of 861.95 km2. The whole area of the sanctuary is surrounded by the river and reserve forest. In the eastern part, it is bordering by beautiful Pakke River and one reserve forest namely 'Papum reserve forest' and on the western part, it is neighboring by another beautiful river called 'Kameng'.
Famous for:
Approx 250 species of plants and trees are found in the area of sanctuary. The forests are rich of woody tress and climbers. Large number of mammals having more than 30 varieties are found here like leopard, tiger, jackal, wild boar and many more. Apart from this there are wide range of reptiles and different kinds of birds having more than 200 species exist in the sanctuary. If you love this place then don't forget to check out Kalakkad Mundanthurai Tiger Reserve detail which is located in Tamil Nadu.
How to Reach:
Tezpue is the nearest city to reach the sanctuary by road. There are many private buses are available from Tezpur to Seijosa. If you are coming from Guwahati then you will reach Tezpur. Soibari railway station which is at a distance of 36 km is the closest one to reach the destination. From there you will reach Seijosa. Tezpur airport is the nearest one from Seijosa. After that you have to take bus or car from Seijosa to reach the sanctuary.
Best Time to Visit:
To see the best sight for the tourists to explore the sanctuary is after rainy season i.e. from beginning of the October to end of April. During rainy season the area becomes very wet and you will not fully enjoy because of the weather.
Weather Overview
| | | |
| --- | --- | --- |
| Sr. No. | Month | Temperature |
| 1 | February |  18 °C |
| 2 | March |  21 °C |
| 3 | April |  23 °C |
| 4 | May |  25.8°C |
| 5 | June |  27.8°C |
Contact Number: 03778-200-016
Address
Located At: Itakhola Seijusa Road
Place: Seijosa
District: East Kameng
State: Arunachal Pradesh
Pin Code: 790103
Timing: N/A
Area: 862 km²
Establishment: 1966
Entry Fees
| | |
| --- | --- |
| Category | Rate |
| Indians | Rs. 40/- |
| Foreigners | Rs. 500/- |
| Jeep Safari | Rs. 1500/half day |
| Camera | Rs. 40/- |
| Video Camer | Rs. 200/- |
| Gude | Rs. 100/- |
| Private vehicle | Rs. 150/- |
| Boat Ride | Rs. 150/- |
| Elephant safari (Indaiun) | Rs. 100/- |
| Elephant safari (foreigners) | Rs. 600/- |
| Night Safari | Rs. 1800/- |