The most popular Sanctuary is Kalakkad Mundanthurai Tiger Reserve which is located in Papanasam, TN. Find best time to visit, entry fees & opening timing & phone number. This place is also known as Kalakad Mundanthurai Tiger Reserve which is one of the 2nd largest wildlife sanctuary in Tamil Nadu. It covers the area of south Western Ghats which is situated near the Tirunelveli district of Tamil Nadu.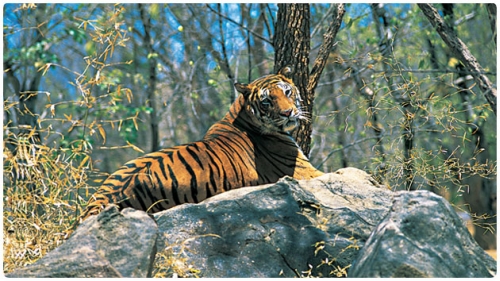 Establishment
In the year 1962, the Kalakad Wildlife Sanctuary and Mundanthurai Wildlife Sanctuary was considered as a wildlife sanctuary. Later on, both the sanctuary get combined and and in the yearly 1988, and this Kalakkad Mundanthurai Tiger Reserve was established.
Things to See
It is mainly known for the conservation of tigers. Apart from this there are numbers of wildlife having different species exist in the park like 79 number of leopards, 73 number of tigers, 172 number of mouse deer, 61 number of Nilgiri langur, 1,966 number of chital, 61 number of crocodiles, 123 number sloth beers, 61 number of slender loris and many more. The plants and forests increases the beauty of the sanctuary. You will also get to see seventy seven types of mammals, eighty one types of reptiles, thirty three types of fishes, 273 types of birds and 150 types of plants.
Other Tiger reserve areas are Betla National Park and the Valmiki national park.
Area
It lies between the two states i.e. Kerala and Tamil Nadu. At the beginning, the area consist of two regions namely Kalakkad wildlife sanctuary spread over an area of about 251 km2 and Mundanthurai Wildlife Sanctuary having area about 567 km2. Some parts of Veerapuli and Kilamalai added with the area of the sanctuary and finally total area is about 895 km2. It is surrounded by fourteen number of rivers, some of them are Ramanadi, Ganga, Pachayar etc.
How to Reach
If you want to go by flight then Trivandrum airport is the nearest one which is about 200 km from the sanctuary. After that you can hire a car or buses are available from there. You can prefer to go by train and the nearest railway station is Tirunelveli Junction which is about 38 km from the sanctuary. There are many buses always available from the Manjolai  to Tirunelveli, it will take approx one and a half hour to reach the destination.
Best Time to Visit
The best time you can prefer to visit the Munanmuthai is from October to January. The summer is very hot there and you can not travel comfortably during April to June. So opt the time during winter or beginning and of the winter season.
Contact Number: 0462-552663
Email Address: kmtrpt@sancharnet.in
Address
KALAKKAD MUNDANTHURAI TIGER RESERVE
Located At: Ambasamudram
Located at: Papanasam – Upper Dam Road Papanasam R.F.
City: Tirunelveli
State: Tamil Nadu
Pin Code: 627551
Establishment: 1988
Timing: 06:00 AM – 06:00 PM
Area: 895 km²
Entry Fees
| | |
| --- | --- |
| Rate | Entry For |
| Rs.15:00 | Adult |
| Rs.10:00 | Children (5 to 12 Year) |
| Rs. 25:00 | Camer |
| Rs.125:00 | Video Camera |