Complete list of beautiful hill stations that are close to Nainital and perfect for weekend holiday. Find the best time and places to visit. Uttarakhand, located in North India, houses the most beautiful hill stations, one of which is Nainital. This scenic place is nestled in Kumaon foothills, about 2000 m above sea level and is surrounded by the mighty Himalayan range. It is one of the best known tourist attractions in India and is also geographically known as the Lake District of India which is famous for its tal or lake! This bean shaped district is often considered by poets as a gem embedded in the Himalayan necklace.
According to Indian Mythologists, it is believed that Lord Shiva had commenced Tandava in this place and is considered as a sacred place where the eye of Sati Devi fell, forming the modern day Naini lake and hence the name Nainital!
Nainital
Must-visits in Nainital includes the emerald lake or Naini Lake, the adventurous trek or ride to the three highest peaks Naina, Ayarpatha and Deopatha and the famous bio-diversity Nainital Zoo.
Temperatures are generally very pleasant during summers with heavy snowfall and below zero degree temperatures during winters. Thus the spring-summer and autumn seasons are the best times to visit which normally lasts from end of February to October.
Kathgodam Railway Station is nearest to Nainital. One can avail rented cars or taxis. Scheduled buses are also available which travel to and fro every day. From Nainital, one can visit the nearby hill-stations either by hiring a car or by local buses. The top ten places are as follows:
Bhimtal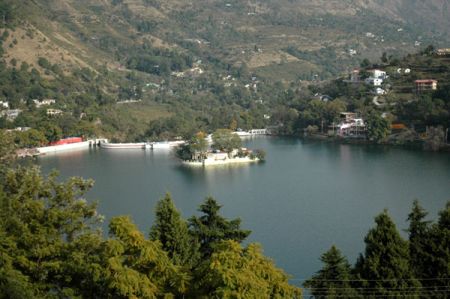 Bhimtal is just 22 kms away from Nainital and can be reached in a matter of two hours by road. This spectacular hill station is famous for its beautiful lake and water sports.  This place was named after the legendary hero Bhima of Mahabharata.
Landmark Places:
Bhimtal lake is the most sought after place which has a large lake with an island of its own. Hidimba Parvat is a small hill adjacent to the natural small lake Nal Damayanti Tal and approximately 2 kms from Bhimtal. Sayab Baba ki Mazar is another place where people from different religions flock to visit the holy shine and witness the spectacular view of the entire lake. One of the untouched areas which fall on the way to Bhimtal, is the SatTal which is a confluence of seven rivers. This place has immense natural beauty and is surrounded by lush green forests and houses different varieties of birds.
Best Time to Visit:
It is around 1300 meters above sea level and has a cool pleasant climate during March to September. Other months have extremely low temperatures.
Kausani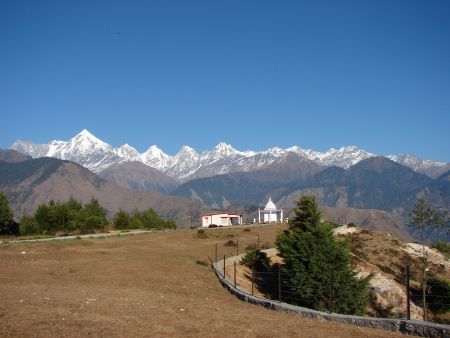 Located in the Bhageshwar district of Uttarakhand, Kaushani is a tourist's feast to the eye. It is famous for hosting the widest view of the mighty Himalayan range. Its spectacular views of frosty mountains, lush green tea gardens, sparkling azure blue skies and mysterious pine forests has got a name as Switzerland of India which was coined by Mahatma Gandhi.  The rosy gold sunsets and sunrises are equally talked about. Kaushani can be reached by road and is only 114 kms away from Nainital.
Landmark Places:
The major peaks that lie around Kausani include Nanda Devi, Trishul, Panchachauli. Here one can go trekking or by car for a spectacular view of the scenic beauty of the place. Baijnath group of temples and Bageshwar are the two most sought after sight- seeing places in Kausani. The place houses the Lakshmi Ashram which stands in solitude in an intense pine forest.

Best Time to Visit:
At an altitude of about 1800 meters above sea level, this green lush hill station houses the best season during July and September. The winters experience extreme snowfall and the place experiences minus temperatures.
Jim Corbett National Park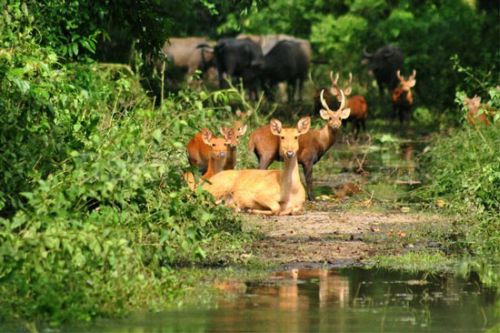 If you want a taste of adventure, visit this amazing national park which is around 81 years old! It is 68 kms from Nainital and can be easily reached within an hour and a half by road. Many transport facilities are available. It houses in numerous species of birds, snakes and has a wide variety of wild life.
Landmark Places:
The park in itself has lots to showcase and jungle safari on elephant back or in a jeep in itself is memorable! For the more daring and adventurous ones, tourist forest lodges are also available. One can also choose to go for a trek only with guided supervision in the barrier zones. Corbett Falls, Kalagarh Dam and Garjiya Devi Temple are few of the places to visit while in the park.
Best Time to Visit:
April-June and Mid-November is the best time to visit the place. There is light rainfall during winters and monsoons generally witness heavy rainfall which keeps the forest dense.
Mukteshwar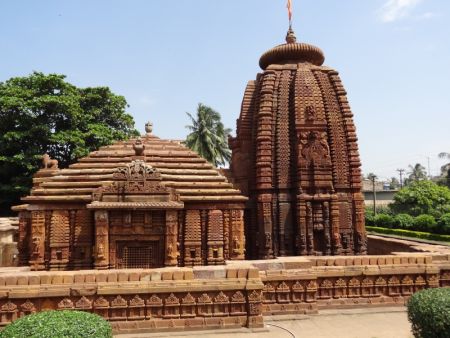 Mukteshwar stands at an elevation of about 200 meters and is a short distance of 52 kms from Nainital. It also can be reahed via road in a matter of an hour. Nearest airport is Pantnagar and nearest railway station is Kathgodam.
Landmark Places:
It has an ancient temple widely known as Mukhteshwar Dham, supposedly 350 years old. Lord Shiva is worshipped here and people from all over India come for his blessings! A trek to the top of the mountains in Mukhteshwar showcases the best views of the mighty mountain range. Rock climbing along the steep cliff, commonly known as the Chauli Ki Jaali, is a common sport. The government guest house is the common place where visitors flock for witnessing a glorious sunset. The IVRI (Indian Veterinary Research Institute) and the Methodist Church are the two most important and common places to visit.
Best Time to Visit:
The place is generally visited during the spring season between March-June and again during autumn from October-mid November.
Bhowali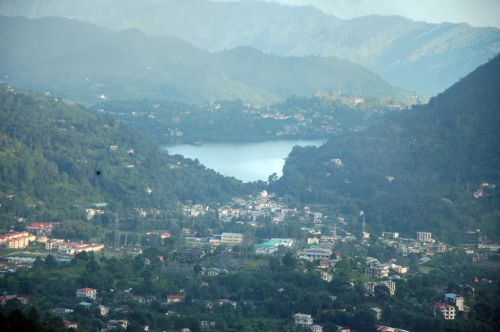 Bhowali town is just 11 kms from Nainital and is a well known hill station. It stands at an elevation of about 1700 meters above sea level and houses a number of famous lakes.
Landmark Places:
Bhowali is famous for the T.B. sanatorium. It is currently a major fruit market and hub for business for the neighboring places. Other attractions included Golu Devata Temple, Shyankhet Tea Garden, Sainik School and Cheena Peak.
Best Time to Visit:
The best time to visit is during spring and autumn to witness the fullest swing of trade in the fruit market!
Haridwar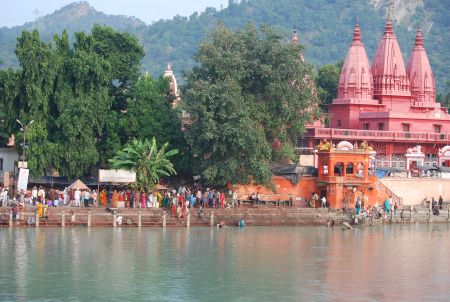 240 kms away from Nainital, this hill station is one of the most visited due to its name for one of the holiest places in India. According to Indian mythology, Garuda dropped the pot of amrit or the immortality potion and thus the name. The origin of the sacred river Ganga is at the Gangotri glacier situated at Haridwar.
Landmark Places:
This place is full of temples, the most common being Har Ki Pauri. Millions flock to this place during the famous and the largest congregation of people commonly called the Kumbh Mela.
Best Time to Visit:
There is a huge crowd in the months of April and October as Ramnavami and Diwali are celebrated during these months. Otherwise the place remains more or less crowded throughout the year.
Khirsu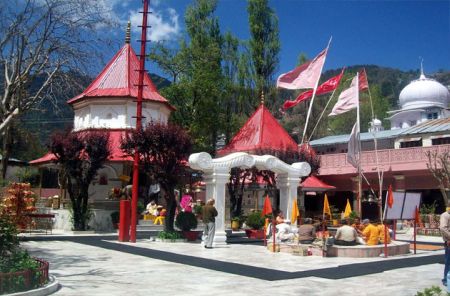 Khirsu, located at an altitude of 1700 meters above sea level, is an ideal place to rest and spend some leisure time. It is still not very famous amongst tourists but its name and popularity is gaining momentum due to its untouched natural beauty and innumerous orchards and dense forests.
Like other hills stations it has temperate climate and thus spring and autumn becomes the most sought after seasons. One can view the mighty Himalayas against clear dazzling blue skies. This a perfect place for rest and solitude. The only attraction is the ancient temple of Ghandiyal which in itself is a quiet place and speaks about the past.