These are 10 most popular hill stations you should visit in Himachal Pradesh – a perfect destination for tourist which are unexplored – best time to visit & guide. The picture of ripe red apples, fluffy white snow and the mighty Himalayan Range comes in mind while thinking about Himachal Pradesh. Its glory and beauty is world famous and Indians and foreigners flock to this paradise every year to witness its spectacular natural offerings!
Popular Tourist Spot to Visit in Himachal Pradesh
If you are planning to visit and not sure which are the best and unexplored hill stations around Himachjal Pradesh then this list can help you out to find out a perfect destination. Let's explore the land of snow through this black and white world.
Manali: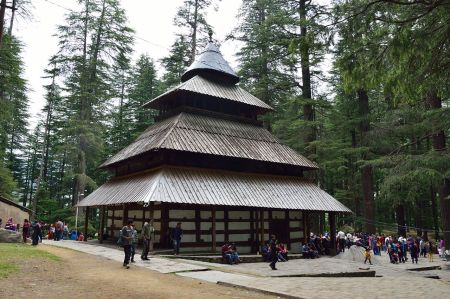 Manlai is about 6000 ft above sea level and is the most sought after place in Himachal. The river Beas flows through the mountain clad land and has numerous apple orchards. Numerous sport activities are lined up during the day like river rafting, skiing, trekking, nature walking, zorbing, paragliding and the like.
Top attractions: Rohtang Pass is one of the most common visitor's favourite. This area is covered in snow almost all throughout the year and the sheets of snow offer spectacular views of the mighty mountains. Hidimba temple is another common place in Manali. The Solang valley is the hub of adventure sports. Jogini, Jana and Rahala falls are famous waterfalls for a visit.
Climate: Generally climate is pleasant during the summers and autumn. Winters experience heavy snow. There are two chief seasons for visiting Manali, the Spring and the Apple season. Winter is for more daring and the adventurous.
How to reach: Manali can be reached by air, road or rail. Nearest airport is in Bhuntar, about 50 kms south. Generally travel by road is about 300 kms from Chandigarh which is through the NH-1 Highway. Rail road is cumbersome and the nearest is Joginder Nagar from which buses or rented cars are availed.
Kullu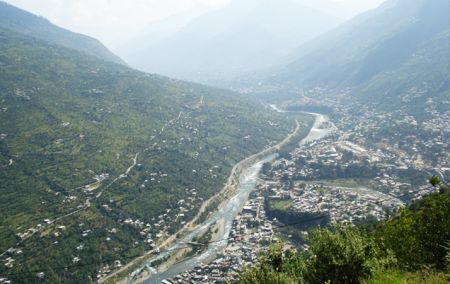 Kullu or more commonly known as Kulu is a beautiful valley which is traversed by river Beas. Its sprawling fields, bountiful apple orchards, mysterious pine and deodar forests attract many nature lovers.
Top attractions: Kullu is considered to be the valley of Gods or more commonly in Hindi as Devibhumi due to its numerous temples like Bijli Mahadev Temple (highest in Kulu), Shri Mahadevi Tirth and others. Kasol is an open stretch of land covered with white sand by the banks of Parvati River and offers amazing views of the snow-capped mountains. Kais Dhar, Shoja and Raison are other must-visits.
Climate: Climate is a little warmer and this place experiences light rainfall during late summer and monsoon.
Transport: It is best advisable to commute by road to reach Kulu through the NH-1 and NH-21 highways. Nearest airport is the Chandigarh Airport.
Shimla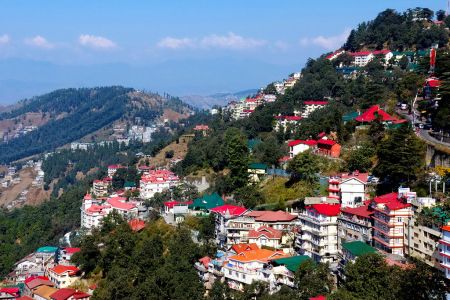 Shimla is the capital of Himachal and is a very crowded town. It has been a famous spot for Bollywood movies for its natural beauty inspite of the din.
Top attractions: The market Mall is the busiest place in Shimla and is lined with bakeries and trinklet shops. Tourists go heavy on their pockets shelling out for numerous items on sale. Wild Flower Hall, Helipad, Simla State Museum and Christ Church are the main tourist attractions.
How to reach: The capital is well connected by road though the NH-22 highway. Shimla Airport is just 23 kms away from the summer capital and the Kalka express will take you to this place overnight from Delhi.
Climate: Climate is predominantly cool with below zero degree during winters.
Chamba: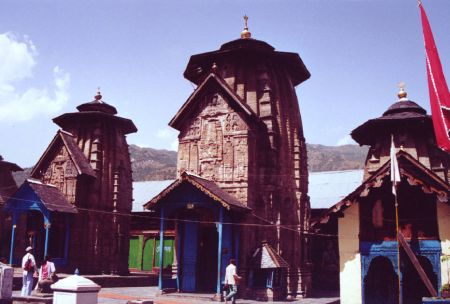 This architectural splendour is located on the bank of Ravi River and house a number of magnificent temples and monuments.
Climate: The climate is freezing during winters with pleasant summers and local buses and taxis can be easily availed to reach here through any major city or town.
Top attractions: Different temples and museums make this town a treat for history lovers. Places like Bhuri Singh Museum, Kalatop Wildlife Santuary, Panch Pulla are a must on the travellers list.
Dharamshala: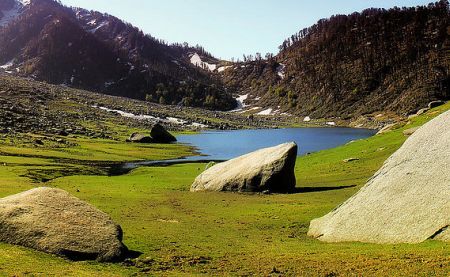 Dharamshala is generally an overnight stopover connecting various places in Himachal. The stay can be extended to spend some leisure and quiet time.
Top attractions: Dharamshala is famous for the International Cricket Stadium. Nestled in the Kangra district, this place offers a spectacular view of the Dhauladhar mountain range. Kotwali is the hub for shopping and modern eateries.
Transport: Bus transport is the easiest to reach Dharamshala through Delhi, Chandigarh and Shimla. Trains can be availed from Pathankot. Nearest airport is Dharamshala Gaggal airport.
Dalhousie:
This well planned town is a perfect mix of colonial influence and natural beauty. The singing hill or Daikund Peak has the Indian Air Force base and is excellent for trekking.
Top attractions: People flock to Dalhousie in the month of July for celebrating and witnessing the festival in Bara Pathar Temple. Other places to visit are Satdhara Falls, St. Francis Church and Garam Sadak.
Transport: Dalhousie can be reached by road through local buses and taxis. Be careful of wild monkeys!
Kasauli: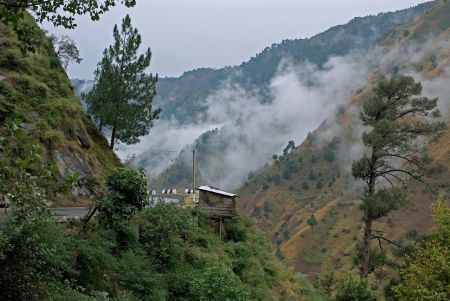 Kasauli has a past related to mythology. It is believed that Lord Hanuman set foot on this small town to look for Sanjeevani.
Top attractions: The area of this beautiful town is very small and it is believed to be traversed by foot. Nearby places include Krishna Bhavan Mandir, Manki Point which is shaped like Lord Hanuman's foot, Sunset Point and the busy shopping area called the Mall.
How to reach: Kasauli is generally a stopover and the spots are covered either by car or buses.
Solan:
Solan city is often termed as Red Gold or the Mushroom City of India for its abundant tomato and mushroom production.
Top attractions: The Hubban Valley, Kuthar Fort, Nalagarh and Shoolini Mata Temple are the famous tourist spots and can be easily reached by road.
Climate: Best time for visit is during early and late autumn, where one can see the production of tomatoes and mushroom.
Una: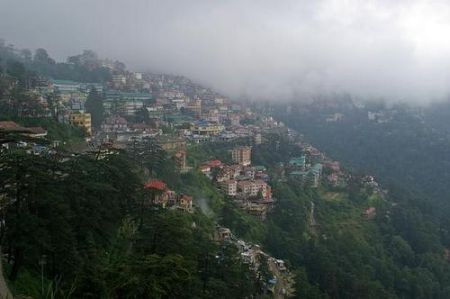 Una is close to the state of Punjab and is dominantly habituated by Sikhs. This is also considered to be the gateway city of Himachal.
Top attractions: The Pong Dam is one of the top attractions of this place. It houses a wild life sanctuary and is an abode for several migrating birds. The Chintpurni Temple, Kila Baba Bedi ji and are the local sight seeing places in Una.
Transport: Una can be reached from major cities via bus or private taxis.
Khajjiar: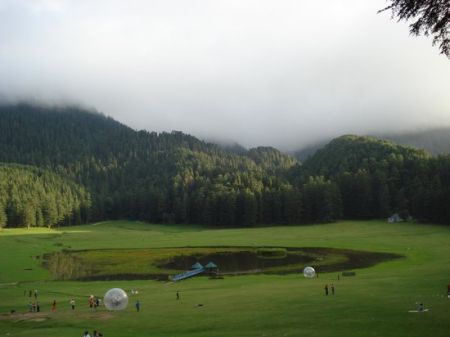 Khajjiar is one of the most breath-taking places in Himachal. Covered by fir and deodar trees there is an expansive open green field where tourists flock for sport activities as well as picnicking!
Top attractions: Generally people visit places like the Shiva Statue which is a bronze deity of 87 ft, Kajjiar Trekking which involves an adventurous trek through the pine forest, Khajjiar Lak, Handicraft Centre and Nag Temple.
Climate: Khajjiar is generally a stopover and cars and buses can be availed conveniently. The Khajjiar lake freezes during winters and houses different fun activities.
There are several other small towns and villages that lace this beautiful land of mountains, snow and apples, which is still untouched, pristine and yet to be explored.