Planning to visit Shoja but not sure which places to see? Located in Himachal Pradesh, its wiki revealed the best time to visit, how to reach this hill station and things to do. A small house in a thinly populated village, mildly cold weather and the entire area is surrounded by mountains all over. To top it over densely thickened jungle, lots of fireflies, and off course a beautiful waterfall to fill your platter.  If you think it is a fantasy land, or somewhere in a far away location away from our own homeland, then my friend, you are absolutely mistaken. This is a small village known as Shoja.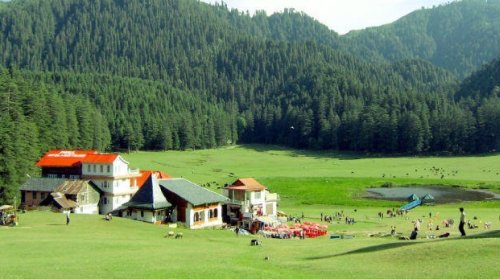 About Shoja Hill Station
Located near Kasol Himachal Pradesh, Shoja is a quite village which is only found by word of mouth only. Located about 502.44kms north of  Delhi, this place is a paradise for peace lover. Generally missed by the general Kasol crowd, this area has a picturesque landscape, with dense thick wood and substantial forest and a beautiful stream accompanying by its side. Also check other places to visit in Himachal Pradesh.
How to visit
Boarding a bus from the Inter State Bus Terminus(IST) can fetch one to Shoja in less than twelve hours.  One can board a bus to Bunter and hop down at Aut and eventually book a cab from there, as Shoja is way before Bunter. An estimated price to book a cab from Aut to Shoja is INR 800-1000(approx) and drop one to the guest house.
Distance from major Cities
Shoja to Shimla – 156 Km
Shoja to Delhi – 500 Km
Shoja to Chandigarh – 275 Km
Best time to visit
Getting a guest house is simple as prior bookings are readily available. Delicacies to be found, best are chicken, mutton and lamb dishes along with delicious Himachal favorites, such as Dham and Sidu. Since it is always a mild chilly weather, rum and brandy are a must inside those luggages, just to keep oneself warm and comfortable. If you are thinking of visiting the place in no time soon, March to November is the perfect time to book a date with nature.!
Places to visit
Waterfall point – since waterfall is an important part of  hill stations, the waterfall near Shoja is a must visit. Long silent walk, along the mountains and the gurgling sound of the waterfall can do wonder to one's senses. Located about 1kms from Shoja, the waterfall is a combination of mystery and magic.
Tirthan Valley – so the ones who are looking out for a bit of adventure, Tirthan Valley is the place. Famous for fishing activities, the stream not only provides an amazing view to its fellow tourist and visitors but a fun filled activity as well.
Jalori pass – with an altitude of 3134m above sea level, place is about 80 kms from Kullu and an amazing tourist and picnic spot near Shoja.
Serolsar lake – This is another tourist attraction, this lake is located about 5 kms from Jalori pass, it has clear water always, despite leaves falling in it throughout.
Raghupur fort – and amidst the scenic beauty, we have a bit of history located in the form of walls and lost land in Raghuput Fort. Said to be once invaded by the Mandi rulers, this place is another major tourist destination.!