Aralam Wildlife Sanctuary is locate in  Valayamchal, Kannur counted among the best wildlife spot. Find time to visit, entry fees, contact number, email ID details. The Aralam Wildlife Sanctuary is a meager 55 square kms in area and lies on the south western part of India in Kerala state. It is considered to be the northern most wildlife preserve of Kerala. This sanctuary was established only 32 years ago in Kannur district of Kerala. This protected area shares common boundary with Coorg district of Karnataka. The Aralam Range runs along this protected area and is the only range in sight. Earlier, the reserve was under Wayanad Forest Division but soon became autonomous from 1998 and Iritty became its head quarters.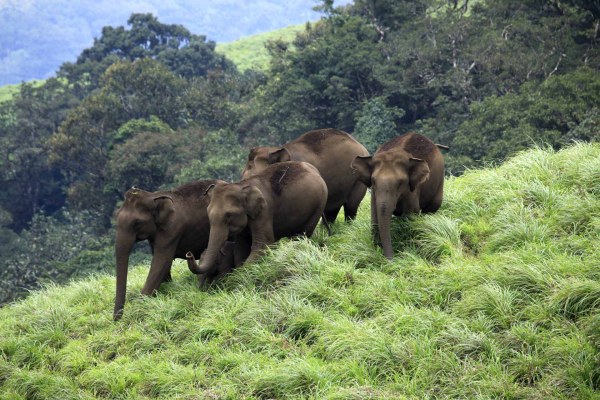 Aralam Wildlife Sanctuary Timing, Entry Fees to Tourist Spot
Following is the working telephone number of Aralam Wildlife Sanctuary that works from 8:00 AM to  evening 6:00 PM.
Contact Number : 0490-241-3160
If you are planning to visit the Aralam and have any queries, then you can send an email to below official email ID:
Email address : ww-aralam@forest.kerala.gov.in
Complete Address
Office at – Aralam Farm,
Located at – Valayamchal,
City – Kannur,
State – Kerala
Pin Code – 670673
Timing : 8 Am : 4 Pm
The gate open from morning 8 AM to evening 4 PM
Entry Fees
The good news for the tourist is that the entry fees for Aralam Wildlife Sanctuary is very much affordable and can easily go with family members, friends or in group.
| | |
| --- | --- |
| Rate | Per person |
| Rs 15 | per person |
| Rs 75 | for vehicle |
| Rs 300 | for guide |
| Rs 25 | for camera |
How to reach?
The nearest town is Iritty which is only 5 kms away. One can avail buses for hire cars to reach this place. The sanctuary is well connected with Wayanad, Kannur, Virajpet and Thalassery. Thalassery railway station is the nearest and well connected  station that is located about 45 kms away and Kannur station about 70 kms away. Both the stations are connected to the reserve by public buses and four wheelers. It is a little cumbersome to reach by air because the nearest airport Karipur in Kozhikode is about 150 kms away and will take hours to reach the place.
Another place that is close from here is the Neyyar wildlife sanctuary  that is approx 530 km.
Best time for visit?
Generally September to May is considered to be the best time to visit the Aralam Wildlife Sanctuary. But rain and nature lovers can take a chance to encounter the mighty forest during monsoon as the place becomes more green and lush. It is an adventure to trek during monsoon to get the taste of thrill and adventure. Other times the place has a pleasant temperature which enables tourists to venture comfortably. Timings are from 8 am to 4 pm.
Major attractions
Flora: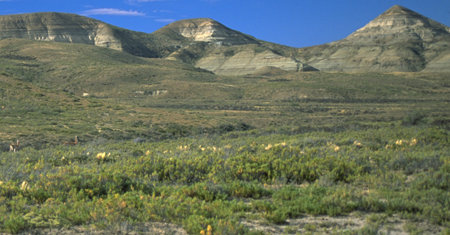 The forest in itself takes an entire day to explore. Thick evergreen forests as well as deciduous trees line the entire area. Teak and Eucalyptus trees are found in abundance and the hills are lush green with different types of vegetation and shrubs.
Fauna: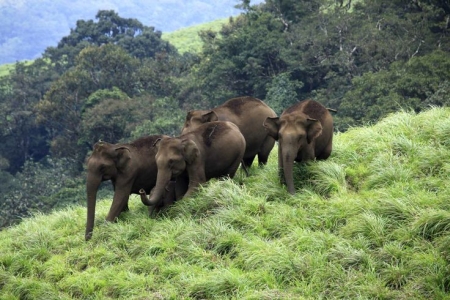 Major species of wild animals found here are Elephants, Tigers, Wild boars, Porcupines, Pangolin, Leopard, Wild mongoose, Langur, Otter to name a few. The reserve is a home to innumerable species of butterflies, reptiles and birds. Birds, even the ones which are considered extinct are found here. Most common amongst them are Hornbill, Wood Pigeon, Roller and Frogmouth.
The forest can be explored through a guided trek as well through a SUV, which is the only vehicle allowed inside the jungle. Fees are minimal and an early morning start is the best to explore the area to the fullest.
Ambalapara: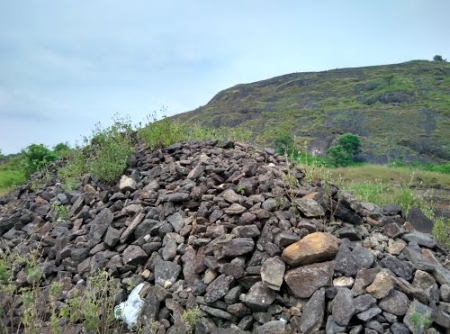 This place is located at 1500 meters above sea level and is perfect for a 3-4 day trek. It houses a watch tower and is extremely difficult to reach this place. Generally a small group is guided by professionals.
Meenmutty Falls: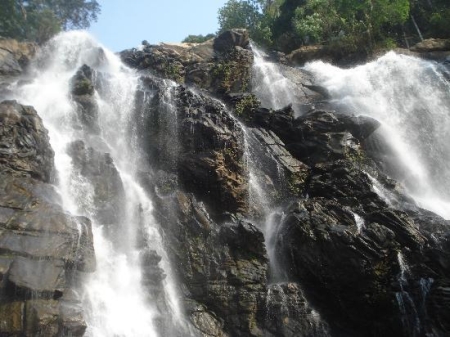 One of the most spectacular and magnificent falls of Southern India is the Meenmutty Falls. This waterfall has three tiers and is dangerous during the monsoons due to intense water flow. In Malayalam the name of the fall means a place where fishes get stuck. It is a good place to rest and sleep in the beauty of nature and enjoy some splashes at its edge.
Nature Camps: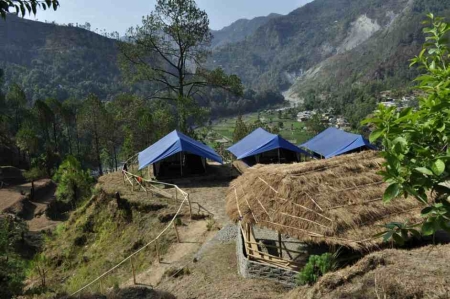 Nature camps are organised and run by local students and NGOs. Camping in the outskirts of the jungle enables first-hand experience of nature in the dark as well. These camps are organized throughout the year and needs to be booked in advance.
Local Treks: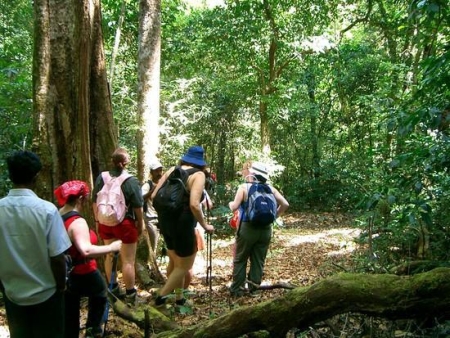 Organized by the local agencies, the treks involve a lot of adventure and thrill. Generally walks are difficult and dangerous, but since experts accompany the group, risks are minimal. Treks are only allowed in the buffer zone and never should be done alone.
Katti Betta: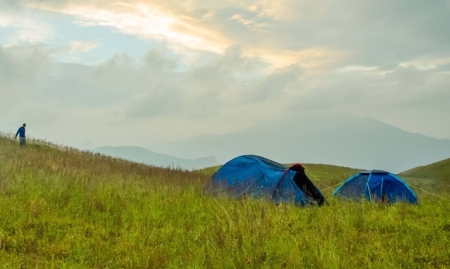 One can trek or take a ride to the highest peak of the area, Katti Beta, standing majestic at almost 1100 m above sea level. The view from the top is breath taking and one can see the dense expansive forest below with a magnificent silence and peace.
People who have visited this place have many a praises to sing for its unparallel beauty and the rich flora and fauna. Hotels are limited here and needs to be booked in advance since many tourist frequently visit this spot. There are few forest guest houses available for stay at affordable rates. Apart from the above attractions, waterfalls and a beautiful bridge fall on the way towards the jungle and are about 8 kms from the entrance of the reserve. No drinks and food are available inside the reserve.
It is approx 65 kms from Kannur