The Bhitarkanika Mangroves is located in Odisha state which is also a national park. The Bhitarkanika Mangroves is spread in about 650 km. Find out how to reach, popular tourist attractions, things to see, weather overview and other detail. For all the nature and wildlife sanctuary lovers Bhitarkanika mangroves is a travelers paradise. Moreover the historic connection of this place in respect to ancient Indian rigid systems makes it even more worthwhile to visit. This entire wetland of Odisha was declared the Bhitarkanika Wildlife Sanctuary and a core area of this wildlife sanctuary was further declared as Bhitarkanika National Park.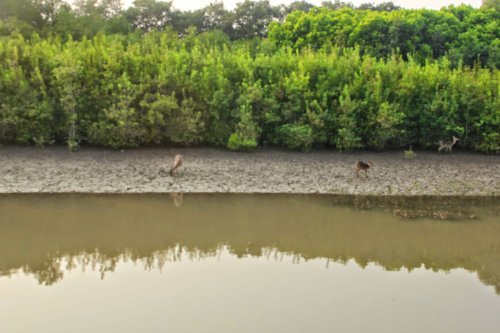 Nature and animal lovers travel far to reach this splendid destination surrounded by magnificent scenic beauty. This place does complete justice to its name Bhitarkanika which is derived from two separate words Bhitar meaning internal and kanika meaning extraordinarily beautiful.  The views of this place are indeed eye soothing and gives a sense of complete relaxation and harmony that one feels after visiting this place.
Though this region is not as famous as it should have been but this rich, vibrant Eco-system being the home to a number of species of flora and fauna is located at the Kendrapara district of Odisha. And is a must visit spot for wildlife enthusiasts and nature lovers.
How to reach Bhitarkanika Mangroves
If you want to take the train route then the nearest railway station will be Bhadrak which is around 60kms to Chandbali, Cuttack which is about 140kms away from Khola/Gupti ( two main entry points to Bhitarkanika National Park), Bhubaneswar which is around 160kms away from Khola/Gupti.
You can also a book a flight to Bhubaneswar. From Bhubaneswar you can reach Khola/Gupti which is around 160kms away
If one wants to reach by road way in order to see the picturesque surrounding the roadways to the way to Bhitarkanika National Park, then take the route Bhubaneswar-Kola/Gupti which is around 160 kms away, Cuttack-Khola/Gupti which is approx 140 kms away, Bhadrak-Chandbali which is around 60 kms away and Bhadrak-Jayanagar which is 80 kms away.
Also check the Wildlife Sanctuary of Odisha state here in detail.
Tourist Attractions
There are several things to see and do in Bhitarkanika Mangroves, let's have a look to the places to visit:
It is a place where even the rarest species of flora and fauna are found
Garhimatha Beach, the famous nesting ground of Olive Ridley Turtles, is one of the main tourist attractions of this place.
The place also provides exciting trekking trails through forests encompassing the splendid wildlife.
The 45 minutes boatride from Dangamal gives you an enchanting experience seeing the migratory birds passing by.
Weather Overview
The best time to visit Bhitarkanika Mangroves is during monsoons. So don't wait further and make it your next tourist destination. Only a few of the many attraction points have been disclosed to keep the excitement intact, go ahead and explore the unforgettable experience.
| | | |
| --- | --- | --- |
| Sr. No. | Month | Temperature |
| 1 | January | 16-29 Degree Celsius |
| 2 | February | 19-31 Degree Celsius |
| 3 | March | 23-35 Degree Celsius |
| 4 | April | 25-37 Degree Celsius |
| 5 | May | 26-37 Degree Celsius |
| 6 | June | 26-35 Degree Celsius |
| 7 | July | 25-32 Degree Celsius |
| 8 | August | 25-32 Degree Celsius |
| 9 | September | 25-32 Degree Celsius |
| 10 | October | 23-32 Degree Celsius |
| 11 | November | 19-30 Degree Celsius |
| 12 | December | 16-27 Degree Celsius |