Chikmagalur is a beautiful hill station of Karnataka. Find the list of places to visit, best time to go, where to stay, popular tourist spot and more. It is a hill town with an area of about 30km2 and lies at the foothills of the Mallayanagiri range on the Western Ghats of the Deccan plateau. Its highest elevation is 1925m above sea level. River Yagachi flows through it and merges into Kaveri on its south-western part. Due to its pleasant romantic climate and natural beauty, thousands of tourists flock to this place to relax, unwind and be amidst the lap of nature.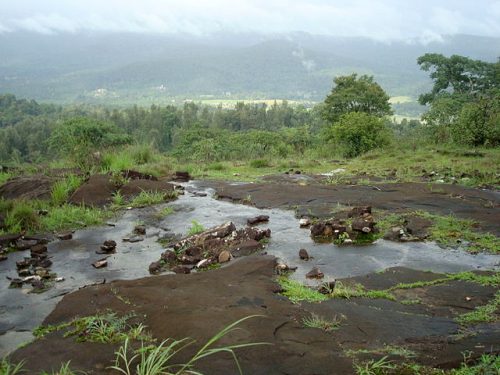 How to reach:
Chikmagalur is connected with Bangalore via the NH 173 and is 250km away from the state capital metropolitan city. The Highway 57 connects with Hassan and Shimoga. Nearest airport is the Mangalore International Airport. The nearest rail station is in Kadur. Both private and public transport connects with major adjacent cities and is easily available at affordable prices.
Best time to visit:
Temperature in Chikmagalur ranges from 11C-32C. Winters are chilly and summers are cool to moderately warm. People enjoy the weather all throughout the year. Best time to visit is during September to March. Monsoon can experience heavy rainfall and is best avoided as trekking cannot be done during this season.
Places to visit:
Chikmangalur is a trekker's paradise set amongst rocky mountain cliffs and adventurous trails through white blossomed coffee plantations and lush greenery all around. The silence of the valley and silvery streams coupled with cool blowing wind is enough to put all the stress at bay. There are several architectural monuments, reserves and river banks to enjoy sight-seeing. Simply strolling around with some food and good company in itself is a treat and a great way to explore the places beauty. Some places in specific for sight-seeing are:
Trekking

:
Mullayanagiri: It is located at a height of 2000m and is approximately 12 km from Chikmangalur. The tracks to this peak is said to be one of the best in India. The trail is marked by rich and exotic flora coupled with splendid views at several junctions. The entire walk takes you through a multitude of terrain from green lush grasses to brown dry patches. The cold wind hits the face offering a soothing feeling and more energy to make it to the top. There are small caves at the base of the hill and a small Shiv temple on its peak.
Baba Budangiri: Elevated at about 1,900m, the hill is a part of the Baba Budan range and is famous for trekking and as a pilgrimage site for both Muslims and Hindus Witness the pristine beauty of waterfalls and bathe in the sacred waters of the waterfall Nallikayi Theertha. Explore the three caves along with the sacre site of Seethala. Gada Theertha and Manikhyadhara are two other waterfalls for sight-seeing while trekking. There is a small lake by the name Galikere near the temple.
Kudremukh: With an altitude of 1894m above sea level, Kudremukh offers spectacular scenic beauty all along its trail to the top which is shrouded by thick fog. It offers the view of the Arabian Sea and the trekking path is lined with bamboo bushes, Shola tree woods as well as green patches through which silent streams flow with all its glory. The place offers a variety of flora and fauna for nature lovers.
2. National Parks:
Kudremukh National Park: Located in Kudremukha, this place is famous for its endangered lion-tailed macaque along with other animals like lion, sambar, leopard, tiger, gaur, wild pig, chevrotain and many more. The vegetation is stunted evergreen forests and mostly has green grassland with patches of forests in the valleys offering a beautiful panorama.
Bhadra Wildlife Sanctuary: This dense forest is a Tiger reserve and houses about 33 tigers. Other animals like elephants, gaur, pangolin, civet, Malabar giant squirrel, mouse deer and many others are found in its wilderness. There are about 120 plant species in this reserve of which indigoberry, bamboo, teak, rosewood and many medicinal plants are found in abundance.
There are other popular parks exists in India like Betla national park Palamu, and Nokrek national park.
There are various personalized trips to these places for an exploration or a guided trek which can be booked in advance.
3. Waterfalls: The Hebbe falls is set amongst the coffee estates and gushes down from aheight of 551 feet in two phases Doda Hebbe and Chikka Hebbe. A stretch needs to be covered by foot and is covered by leeches which one should be careful of. Other falls included Hanuman Gundi Falls and Kallathigri falls.
4. Other places: Other worth places to visit like The Ganesh Temple, Kodandarama Temple, beautiful Ratna Giri Bore and Mahatma Gandhi Park are the other tourist attractions in Chikmagalur.
Where to stay:
Various 3, 4 and 5 star hotels are available for stay. Hotels like The Gateway, Greenwood Resort, The Grand Krishna, River Tern Lodge, Mountain Valley are few of the top rated hotels. Homestays or guest houses are famous in this region of which Devgiri, Guddadamane, The Spectrum, Chandramukuta, Attithi, Coffeeland, Shiveka and Thanmaya are the most preferred.
With all the calmness and aromatic coffee plantations Chikmangalur offers both natural beauty as well as adventure to be treasured a life time.