Kudremukh National Park is located in Chikkamagaluru.  A popular tourist spot, Kudremukh National Park is famous for animal & waterfall, entry fees, how to reach, best time to visit, address & phone number. Among 29 National Parks and wildlife sanctuaries for the conservation of wildlife in Western Ghats locally called as Sahyadri, there are total 10 wildlife protected area which are situated in Karnataka state. Kudremukh National Park is one of them which ranks second position in respect of area in KarntakaIt comes under the region of coastal district i.e. Dakshina Kannada near Chikmagalur town. As the park lies in the area of Kudremukh  which is known for its natural mesmerizing sightseeing and beautiful hilly mountains, there are wide varieties of forests and animals found here. It is also a constituent of Bhadra Tiger Sanctuary.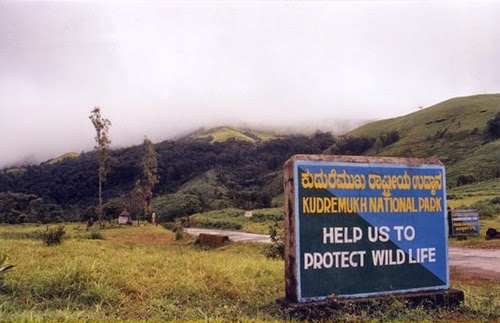 Establishment of Kudremukh National Park
Earlier, the government found the existence of Wanderoo in the forest area of the park. So, for the protection of these animals it was considered as the Reserve Forest. Later on, in the year 1987 the park was confirmed as Kudremukh National Park.
Famous for
The park and nearby areas are famous for number of reasons as these are one of the best spot for tourists. The main wildlife found here is Wanderoo other than there are many animal and plants are seen here. The birds are found in large numbers having 195 varieties. The people also came to visit the Kadambi Waterfall which is located nearby the park. Apart from this many more attractive spots are situated near the park.
Also consider to visit Kemmangundi which is a hill station located in Karnataka. There are other wildlife sanctuary too like Barda, and Ballavpur.
Area       
As it is one of the largest park in Karnataka, it spreads over larger area of about 600.32 Km2. The park is surrounded by three rivers whose emergence is nearby the park. The rivers are the source of water for the thirsty wildlife. The whole area is surrounded by the hilly ranges of mountains and valleys.
How to Reach Kudremukh National Park                                                                                     
Chikmagalur is the nearest city to reach the park at a distance of 95 km. The roads of Chikmagalur are well connected from the park. You can also choose the route from Mangalore by road which is situated at a distance of 130 km from the park. The closes airport and railway station is Mangalore.
Best Time to Visit
The beauty of the park get to see almost all the seasons but if you want to see the perfect sight of the evergreen forests beautiful birds and wildlife then you can explore the park during from October to February.
Contact Number: 08258-731-183
Email Address: N/A
Address
Located At: Marne
Place: Chikmaglur
District: Udipi
State: Karnataka
Pin Code: 574101
Establishment: 1987
Timing: N/A
Area: 600.32  km²
Entry Fees
| | |
| --- | --- |
| Rate | Entry For |
| Rs.200 | Indians |
| Rs.1000 | Foreign |