The Jonha Falls is one of the beautiful waterfall and tourist spot located in Ranchi. Find best time to visit Jonha Falls, how to reach, distance and where to stay information. India is a place of beauty and gorgeousness; you will find the beauty of nature, everywhere in our country. Ranchi is, of course, one of them, this is a city with the grace of beauty and nature has enriched the place with all its blessings. Jonha falls is one of those. It is the fairyland of Ranchi, charming scenic beauty, breathtaking, colorful lakes and waterfalls made the place splendid, especially when it is robbed by autumn. It looks like heaven and a hanging valley falls which is so mesmerizing in looks.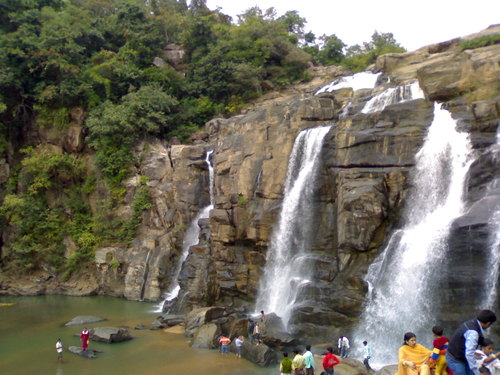 About Jonha Falls
The over streams of Gunga River and the falls of Raru River has changed the entire atmosphere of the place. The Jonha Falls falling from 43 meters or 141 feet high, it has awesome surroundings to watch. Tourists from all over India and foreigner too come across to watch this beautiful view. You can enjoy along with your family, it's quite safe over here. The flow of the water is a bit slowly, but during monsoon, it's become furious.  The falls named "Gautam Dhara" after the name of Gautama Buddha.  The local believed that Lord Buddha took bath here. The place is overwhelmed by Buddhist culture, as there are two beautiful Buddha Temple nearby the falls, built by King Baldevdas Birla.  Tourists also visit these temples that come to see the falls. There are other several waterfalls in Ranchi city, that you can choose for weekend trip.
Now it's not only a tourist spot but also became a popular picnic spot for locals. This is the safest falls in Ranchi because there is no deep force pool under the waterfall. The depth of the fall is also short, can easily enjoy with family. Every weekend and in holiday season become too crowded. Falls and surroundings have an impact on Buddhist culture. There is a Buddhist shrine with the statue of Lord Gautama Buddha near the tourist rest house. A Buddha ashram and a temple are also there at the top of Gautama pahar. Every Tuesday and Saturday there was a fair organized by locals. So you can always stay here for a couple of days. This fair is a fine amusement option for the travelers.
How to Reach
Jonha falls is 45 km away from Ranchi, Jharkhand and can be reached by both trains and by road.  Through train, you can reach to Jonha station which is just 1.5 km away from the waterfalls. While traveling by road you have to take Ranchi-Purulia road and travel for 32-35 km and thereafter another 4 km off the main road.
Best time to Visit
You can come Jonha Falls any time of the season, depending on your choice. If you want to be little adventurous then you can come during monsoon. Otherwise, winter (from October to February month) is always a good time to visit and you can also enjoy the picnic with family or friend.
There also a rest house near the falls with a Buddha shrine. There you also find a deity of Gautam Buddha.
There are many church and temples are there to visit, which are quite near from the waterfalls. You can add some other beautiful places at your tour itinerary including Dewri Mandir, Pentacoastal Church, Cni Church, Panch Gagh Fall etc. These places are also great in looks.
Where to Stay
There are many hotels near the falls and also quite near from the national park. You can choose your staying option according to your pocket. There are many budget hotels and also some luxurious hotels to stay. You can stay at Ranchi also and can take a car from your hotel to reach there.
You can easily book hotel or guest house online some days before your traveling date or you can book those by the phone call.
If you have any other information related to Jonha Falls which is not listed here or any pictures then do let me know, will add it here.