These are the top places to visit in Katra, Jammu, I have listed 05 to phill stations near this holy place from best time to visit and things to see for tourist. Katra also known as Katra Vaishno Devi is the holiest place to Hindu's. In the foothills of Trikuta Mountains of Jammu & Kashmir State this hill station placed. So, one can visualize the beauty of this small and sweet hill station near Jammu, a place which is always full with pilgrims for Vaishno Devi Temple as well as tourists. This is one of the heavenly spots for the tourists and trekkers with a mesmerizing picturesque.  Recently in 2014, this beautiful hill station is connected by Indian Railway service with rest of India, under Northern Railways; though it was well attached through roads of state highways for quite a long time.

Best time to visit this place is from March to June and October & November. There are so many Hotels, Resorts & Dharamshalas around Katra for tourists & pilgrims. There are so many beautiful places in & around Katra, so you can enjoy your tour surely when you add these places in your itenary. We are going to discuss below such must-go places near Katra, your tour is incomplete without visiting these places
Vaishno Devi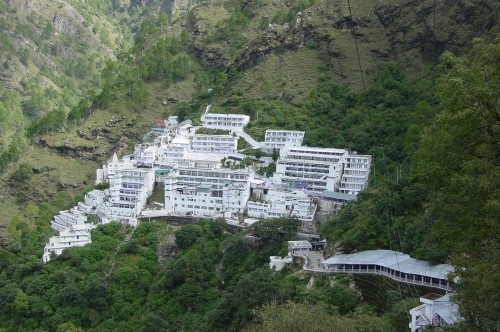 A knowable and one of the holiest places in India. Millions of devotees visit Vaishno Devi Maa every year.  Hindu Pilgrims from all over the world come to take blessings from Devi Maa all through the year.  Vaishno Devi is also famous as Mata Rani, Trikuta Bhagawati, and Vaishnavi.
Landmark
Vaishno Devi temple itself a landmark place for Katra and people can visit all through the year.
Best time to visit
though May & June for festivals and December to January for snowfalls, tourists gather most.
How to reach
You can travel through road by bus or car and also is reaching by Indian Railways. Katra railway station is the nearest one.  Vaishno Devi temple opens from 5 am to 12 pm and again from 4 pm to 9 pm.
Baba Dhansar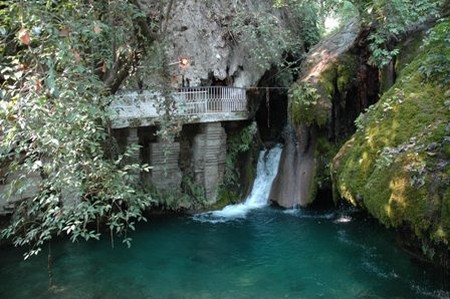 This is another religious place in J&K state.  This holy Hindu temple of Baba Dhansar also draws thousands of Hindu pilgrims every year.  The temple is near to Karua Jheel in Karua village. According to the locals, Baba Dhansar was the son of Vasudeva and with the help of Lord Shiva he able to kill a demon, who lives in the Karua Jheel.
Landmark – There is a Nag Temple and a temple of Lord Shiva to honour the Gods. Shivaratri celebrates in a huge way here.  
How to reach – Apart from highway one can reach by train as Jammu Tawi station is 36 km away from this place & Jammu Airport is 37 km away. There are lots of Dharamshala, Hotels nearby. Temple opens from 5 am to 12 pm and from 4 pm to 9 pm all days in a week.
Best time to visit – May to July is the peak season, but one can visit anytime. Always try to avoid the rainy season.
Patnitop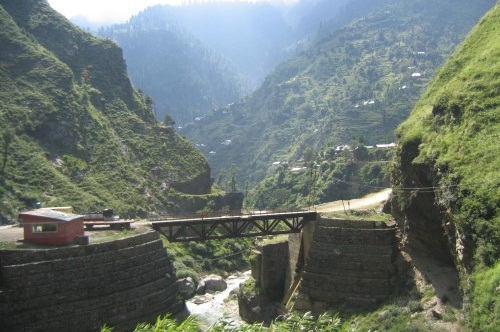 A beautiful hill station on Jammu-Srinagar highway, 6,640 feet high from sea level. Surrounded by Pine and Cedar, this green valley is a dream place to be.  The Patnitop hill station is only place in Jammu where you can witness snowfall in winter. Fresh air, breathtaking beauty will give you enormous peace and joy.  Those who love adventure sports like; trekking, paragliding, golfing, skiing, also can enjoy.
Landmark
There are few places like Nathatop, Naag Mandir, Shudh Mahadev, Mantalai, where you must go while in Patnitop.
How to reach
Apart from road transportation, Udhampur railway station is just 24 km away from Patnitop, if you are planning for the train journey and if by plane then Jammu airport is 64 km away.
Best time to visit
You can visit any time of the year according to your choice though May to July is the busiest of the season.
Dalhousie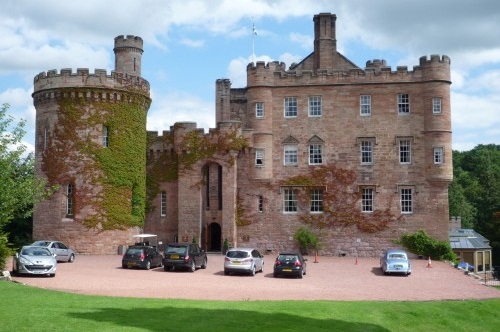 An outstanding, amazing hill station of Himachal Pradesh, just 4.5 to 5 hours journey from Katra by road. Lush greenery, mesmerizing picturesque, pleasant weather makes it a wonderful place.
How to reach
If you are planning to reach by train then Chakki Bank Railway station is nearer, about 44 km away from Dalhousie. Bus service is quite good & also can be reaching by car. Gaggal airport is just 37 km away from Dalhousie if you are catching a flight.
Landmark
Mall, Moti Tibba hills, Kalatop wildlife etc. are famous places in Dalhousie.
Best time to visit
During April to November is the best time to visit there. If you want to enjoy snow then, of course, should be there during winter.
Mcleodganj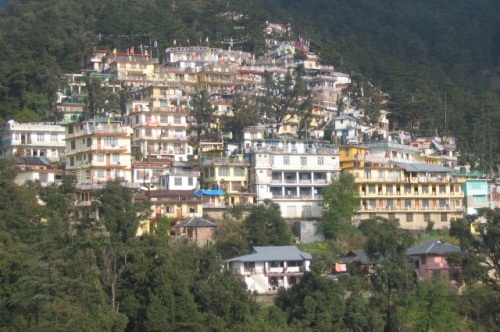 A small but beautiful hill station of Himachal Pradesh. This hill station has Buddhist influence all over it & also Tibetan culture. This place is a heaven for trekkers. Lots of tourists come across to visit this hill station to get relief from rush life. This calm, peaceful place will surprise you at any time with its beauty & greenery.
How to reach
This hill station is about 5 hours from Katra. You can reach there by road through the bus, cars. Gaggal airport is only 7 km away from Mcleodganj and Kangra Railway station is 17 km away.
Best time to visit
February to November is the best time to visit this small but wonderful hill station.
Landmark
Dal Lake, Triund, Bhagsunath Temple etc. are such places to visit during Mcleodganj.