Bibhutibhushan Wildlife Sanctuary is located in Gangsara, West Bengal. A perfect weekend tourist spot, find its timing, phone number, entry fees & tourist attraction. One of the beautiful tourist spot is Bibhutibhushan Wildlife Sanctuary which is in Gangasara village of West Bengal. It is located at the southern part of West Bengal i.e. North 24 Parganas district and this wildlife sanctuary is also known as Parmadan Forest.  This sanctuary was established in 1980. But the title of wildlife sanctuary was given in 1995 in the name of the legend Bengali writer Bibhutibhusan Bandhyopadhay.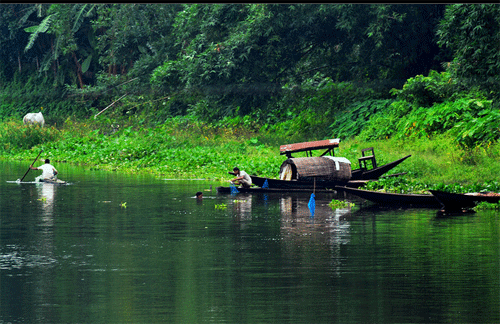 How to Reach
The nearest place is Bongaon which is at the distance of 25 km from the park. If you want to go by car or taxi from Bangaon then you can choose the route via Bangaon Helencha Road which took 45 minutes to reach the park. If you are tourist then you opt the route from Pargana, West Bengal via NH-16 which is at the distance of 287 km by road from the park. Kolkata city is at the distance of 100 km by road.
Area:
This Sanctuary is spread over a large area of 68 km² .At least you have to spend 4 to 5 hours here to visit the whole park if you do not want to skip some of the areas.
Tourist Attractions
Bibhutibhushan Wildlife Sanctuary is mainly famous for deers and langurs. You get to see large number of deers. As this wildlife park has also a small children's zoo where they can enjoy a lot.

Best Time to Visit:
This park can be explore throughout the year except during rainy season.
Phone  Number: 85358-29845
Tourist can directly call to the above phone number for any query related to timing or group travel.
Address:
Located at: Gangsara
District: North 24 Parganas
State: West Bengal
Pin Code: 741238
Nearest railway station: Bongaon junction
Nearest Airport: Netaji Subhash Chandra Bose International Airport, Kolkata
Timing: 9:00 AM to 5:30 PM
Area: 68 km²
Establishment: 1980
Entry Fee: Rs 10
The entrance gate open sharp at 9:00 AM and remain open by 5:30 PM.  While the entry fees are very nominal i.e. Rs 10. A perfect tourist spot for weekend trip near by Kolkata city!!