Here is list of 10 Highest Waterfalls in India that every tourist love to visit. Find which is the best time to visit, how to visit and height. India is a country of natural beauty. You will find some gorgeous waterfalls, mountains, the river at every corner of our country. Incredible India, at the monsoon, is breathtakingly beautiful. Sparkling waterfalls and full swing rivers, green mountains bring the heaven to our own piece of land. Picaresque landscapes and magnificent waterfalls make a place dreamlike beautiful. In India, you will find many waterfalls. Some falling from the huge height and some are coming from different sides but all of these have enriched our country with grace.
Highest Waterfall in India
Many travelers want to go natural falls across the country. So, here is the list of 10 biggest waterfall in our nation:
Shivanasamudra falls of Karnataka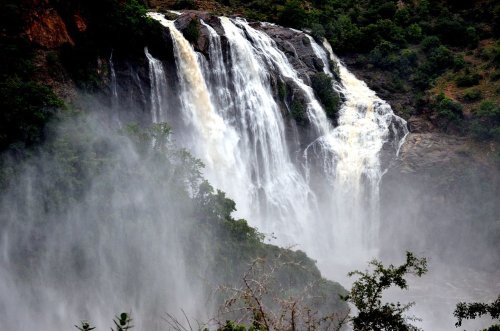 We can call the waterfalls, a magic, created by god. Two parts of the Waterfalls, eastern Part, and Western Parts has created a dream-like beauty on earth. It is in the Mandya district of Karnataka and on the bank of Kaveri and counted among the highest falls. Water comes down through the ravines and the rocks and the island of the falls are filled with rare spices of flora and fauna.  At the monsoon season, the waterfalls become splendid.
How to reach
You can reach there by bus; buses are available from Mysore or can reach to Maddur by train.
Best Time to visit
To enjoy the beauty of the waterfalls best, you can visit there from June to October.
Jog Falls of Karnataka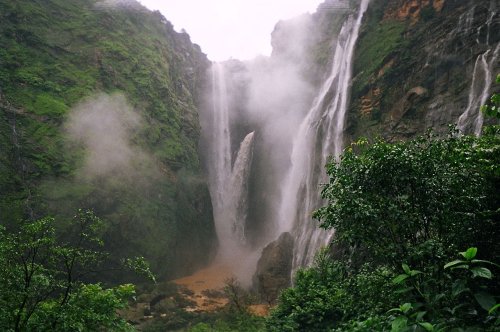 When we are talking about the natural beauty, we have to tell about the South India most. Jog Falls of Karnataka is another awesome fall of India which is also the second highest waterfalls of India.  There is also a hill station called Kemmangundi which is about 170 km distance. Spectacular view of the waterfalls has made the place one of the top tourist spots of Karnataka.
How to Reach
You can reach there from Mangalore airport by car or also can go there from Bengaluru too. Nearest railway station to reach there is Shimoga.
Best time to visit
of course the monsoon is the right time to view the waterfalls, from June to September.
Dudhsagar Falls of Goa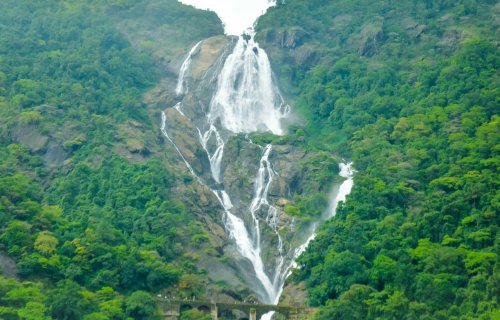 It is another popular travel destination of India, which is situated in Goa and it rests on Mandovi river. Even trains pass from very close of the falls. At monsoon, the beauty of white water coming down from velvety green makes an awesome. You can call it a welcome view of a perfect honeymoon destination.
How to reach
You have to reach Panaji or Madgaon first and then you have to take a car or bus to reach Dudhsagar.
Best Time to visit
To visit the place, you can choose two-time slot of a year, November to February or June to September.
Nohkalikai Falls, Meghalaya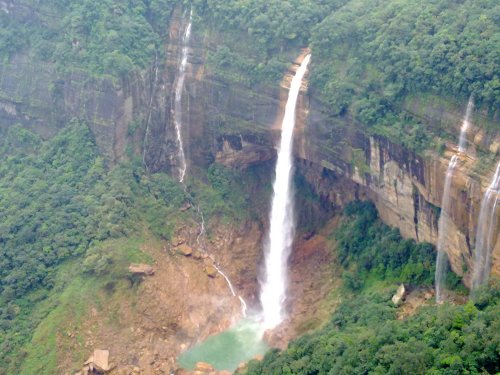 The wettest state of India, Meghalaya offers so many waterfalls but the Nohkalikai is the best one according to natural view. The height of the falls is nearly 1,110 feet. You can enjoy a spectacular view that is hard to find anywhere else in India.
How to Reach
You have to reach Guwahati airport or Guwahati rail station first and you can take a car or bus to reach Meghalaya.
Best time to visit
June to November is the best time to visit one of the longest waterfalls of India.
Jung Falls of Arunachal Pradesh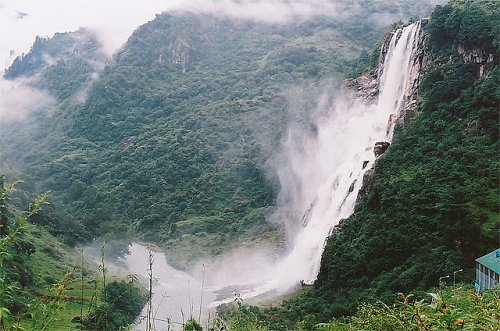 This is one of the gorgeous waterfalls of India. You have to trek a little bit to reach there. This is not only great in looks but it is also the source of electricity of Arunachal Pradesh. This falls also popular as Nuranang falls or Bong Bong falls.
How to Reach
Nearest station or airport are Tezpur and then you can take a car on rent to reach there.
Best time to visit
Monsoon is the best time to visit the falls.
Langshiang Falls, Shillong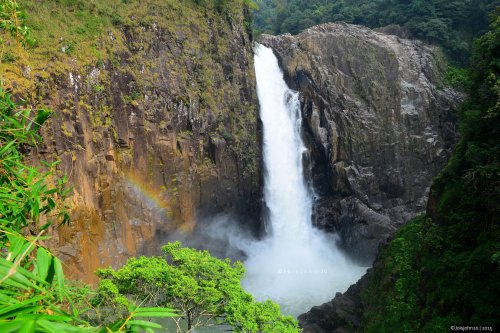 Shillong is the Scotland of East, so the natural treasures of Shillong have made the waterfalls amazingly beautiful. Height of this fall is about 337 m which is equal to 1,105 feet.The waterfall is divided into three sections and it looks amazingly beautiful at the rainy season. In Shillong, you will find the Elephant Falls.
How to reach
You need to reach at the Guwahati airport first and then bus or car to reach there.
Best time to visit
Peak time to visit the place is Langshiang Falls.
Bhimlat Falls, Rajasthan
Bhimlat Falls is the gorgeous secret of Rajasthan. At the sandy land, it is the stereotype break of the place. If you visit the place at monsoon, you will have the best natural beauty there. Don't miss the opportunity to visit hill stations around Jaipur which is very close to this fall.
How to reach
The nearest Airport is Kota. You can take a car from there. This place is nearly 35km far from the Chittoor road.
Best Time to visit
You can visit the place June to October, which is the best time to visit the place.
Soochipara Falls
It is another breathtakingly beautiful Waterfalls of South India. It is Vellarimala Village of Kerala and popularly known as Sentinel Rock Waterfalls. This place offers a spectacular view with the opportunity of rock climbing. This is also a popular picnic spot of Kerala. You can also visit the Parambikulam Wildlife Sanctuary which is also in same state.
How to reach
You reach there by train and the nearest railway station is Elevated Junction.
Best Time to Visit
Best time to visit the place is June to September.
Kempty Falls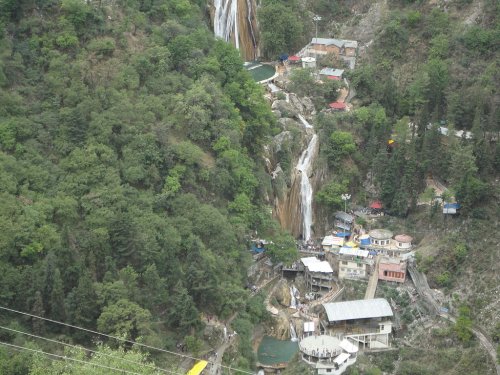 The Kempty is one of the popular tourist destinations and well known name in Uttrakhand. This is situated near Mussoorie. Situated 1,364 meter above sea level, this beautiful falls founded by John Mekinan, a British army officer in 1835. The Kempty falls surrounded by high and beautiful mountains range at 4,500 ft altitude. Lacks of Tourists come to enjoy the surrounding almost every time of the year.
How to reach
The place is just 13 km away from Mussoorie and 40 km away from Dehradun. The nearest airport is Jolly Grant  which is well connected and railway station is Dehradun.
Kanchenjunga Falls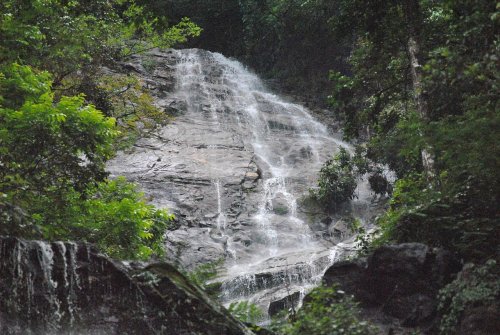 This awesome waterfall situated just half an hour from Pelling, Sikkim. This is one of the major tourist attractions of this region. Locals believe that the falls actually originated from the glaciers of Kanchenjunga, the famous mountain.
How to reach
Bagdogra airport is about 160 km away from Pelling where as the nearest railway station is New Jalpaiguri which is approximately  152 km away.  Pelling is also connected by road and can reach through anywhere from India.