Vedanthangal Bird Sanctuary is one of the oldest bird sanctuary located in Tamil Nadu. Find best time to visit, timings, entry fees, contact number, address and more. It is located in the Vedathangal area of Kancheepuram district in Tamil Nadu. Every year during the time of migratory season approx 40,000 birds which includes 26 types of different species of birds explore the sanctuary comes from different parts of the world. The bird sanctuary is legally and fully protected under the supervisor of Tamil Nadu government.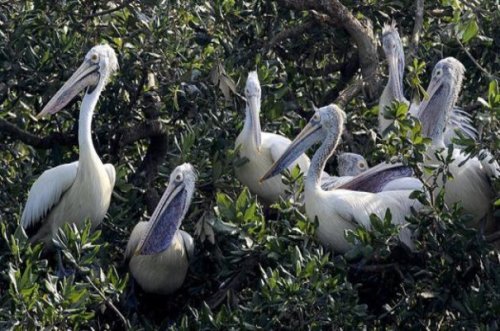 How to Reach
There are two routes from Chennai to reach the sanctuary. One is from the NH-45 which is at a distance of 75 km from the sanctuary and the other one is from NH-32 about 88 km from the sanctuary. Chengalpattu Junction is the nearest railway station about 30 km from the sanctuary. If you want to go by flight then you have to reach Pondicherry airport which is nearest to Vedathangal.
Area
The area of Vedanthangal Bird Sanctuary is not very large, it covers only the area of 74 acre i.e. 0.3 km2. One of the famous lake called the Vedanthangal lake situated near the sanctuary.
Best Time to Visit
It remains open 365 days in a year but the best view of the birds you get to see is during winter season specially from November to March. This is the time when climate is very cool and the birds are very active in developing their nests.
Establishment
In 18th century, the region of Vedathangal was famous for hunting spot. There were small lakes which were the favourite place for the birds for feeding. Later on, the people realized the importance of the area and in the year 1798, this place was developed by the British Government as a bird Sanctuary and it was established by collector of Chengalpattu in 1858 namely Vedanthangal Bird Sanctuary.
Don't miss chance to check popular tourist spot near Ooty here.
Things to see
It is one of the famous spot for the tourists to spend vacations. The sanctuary is mainly famous for different species of large number of birds which comes from different part of the world. One of the variety of bird namely the migratory birds get to see in large number such as grey pelicans from Australia (also check malanda waterfalls which is located in Australia) , open billed stork and grey herons from Bangladesh, glossy ibises and snake birds from Sri Lanka, painted storks from Siberia, spoonbills from Burma, teals and garganeys from Canada. Some common birds are also found here such as pintails, painted storks, moorhens, large egrets, grebes, cormorants, night herons, darters, little egrets, paddy birds, pond herons and many more.
Contact Number: 044-2235-1471
Vedanthangal Bird Sanctuary Address
Area: Vedathangal
District: Kancheepuram
Town: Madurantakam
State:Tamil Nadu
Pin Code: 603314
Distance from Chennai: 75 km
Best time to visit: November-March
Nearest Airport: Chennai at a distance of 58 km
Timing: 6:00 AM-6:00 PM
Area: 74 acre
Establishment: 1858
Entry Fees
| | |
| --- | --- |
| Fee | Entry for |
| Rs 25 | For Adults |
| Rs 10 | For Parking charge |
| Rs 25 | For still cameras |