The Sariska National Park is famous Tiger Reserve established in 1955. Find its opening timings, entry fee, best time to visit, contact number and more. It is a reserve forest which is located in the Alwar district of Rajasthan state of Western India. The total area of the sanctuary is 866 km2 and the Tiger Reserve is approximately 273 km2.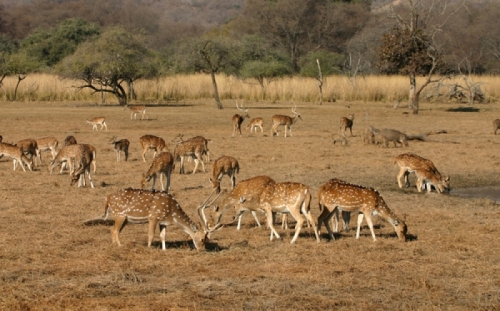 The park has a typical arid topography with dry shrubs and thorny trees. The reserve belongs to a part of the Aravalli range which is rich in copper.  Mining has been ban for protection of the reserve but still marble mining continues in some part areas.
Attractions
The dry rocky terrain with parched forests comprising of dry deciduous trees and shrubs make a beautiful canvas of brown, orange and occasional patches of blue water bodies and the vast azure blue sky. Dhok is a notable tree found in the forest along with other trees like khair, gol, bargad, ber and many more. The variety of flora and fauna makes a perfect adventure spot for tourists.
The most notable of all animals are the Royal Bengal Tigers. Several tigers were relocated successfully after Sariska reserve was found devoid of them due to poaching. There are currently more than 13 tigers including male, female and cubs.
Besides the tigers other animals such as sambhar, chital, striped hyena, nilgai, four-horned antelope, hare, wild boar are found in plenty. The place is ideal for bird lovers as colourful feathered friends hover around the forests throughout the day amongst which golden-baked woodpecker, treepie, crested serpent eagle and white-throated kingfisher are a treat to the eyes.
Some other national parks in India like Kudremukh and Eravikulam national park are very popular.
The forest also houses the famous Pandupol Hanumanji Temple perched on a hilltop located at the heart of the reserve. Kankwadi Fort and ruins of Bhangarh are two historically rich sites famous for its past history as well as ghost sitings. The Sariksha Palace and Neelkanth Temple are also good sight-seeing spots in the reserve.
How to reach
Nearest town to the reserve is Alwar located at a distance of 48 km approximately. The reserve is also connected to nearby cities like Hindaun (106km), Jaipur (107km) and Delhi (200km). Both Delhi and Jaipur have International airports and well connected railway stations. Nearest railway station is in Alwar. By road the park is off the Delhi-Alwar-Jaipur road and one can take the NH-8 to reach the place easily.
Best time to visit
The park remains open all days a week from 6 am to 3 pm and all throughout the year leaving national holidays. Best time to visit the place is during September-March as temperatures can soar high during the summer months.
Contact Number: 080-3017-8143
Email Address: rsrajindia1@gmail.com
rsrajindia2@gmail.com
Contact Person: Dr. M. Sharma
98112-75279
011-4545-8806
Address
SARISKA TIGER RESERVE
Located At: Near Kraska
Place: Alwar District
City: Sariska
State: Rajasthan
Pin Code: 301001
Establishment: 1995
Timing: 06:00 AM – 03:00 PM
Area: 866 km²
Entry Fees
| | |
| --- | --- |
| Rate | Entry For |
| Rs. 80 | For per person for Indians |
| Rs. 470 | For per person for Foreign Nationals |
| Rs. 4,200 per head | For Jeep for 6 people |
| Rs. 400 | For video camera |